The 5 Biggest Green Projects Under Construction in the UK in 2016
1 min read
UK Goes Green

It is well-known that all the major and developed countries on earth are obliged and committed to transform their environmental policies. In other words, they have agreed to create a path towards a more sustainable and green planet, capable to face the environmental changes that are already actualising all over the world.
Of course, within environmental policies, renewable energy resources are the field where all nations are investing the most money, and the UK is no exception to the rule.
The following infographic shows the location of the most relevant renewable energy projects being currently under construction in the UK. All of them are under the EU umbrella and the commonly accepted EU renewable energy targets for 2020.
So, these are the most ambitious, impressive, in-progress projects presented one by one:
Vine Farm Solar Park. This solar park is a two years project in South Cambridgeshire made by the German renewable energy company, BayWa r.e. It is expected to be ready before the end of 2017
Lynemouth Power Station. A biomass power plant that is expected to be delivered during the first half of 2017. This huge £350-million-project is owned by the Czech utility company EPH and it is located in the Northumberland.
Killgallioch Wind Farm. The largest upcoming initiative in Scotland it will have the signature of the ScottishPower Renewables company. The  benchmark of green projects in Scotland is expected to be ready in 2017.
 Rampion Wind FarM. Made by E.ON, this £1.3 billion green project is estimated to be ready in 2018.
 MeyGen.  This long-term project by MeyGen will be ready in the early 2020s. It is the only ocean energy project in the list and it will be located between the Inner Sound of the Pentland Firth and Stroma Island.
Check here, if you want to know some more specific information about the criteria and technical characteristics of the green projects.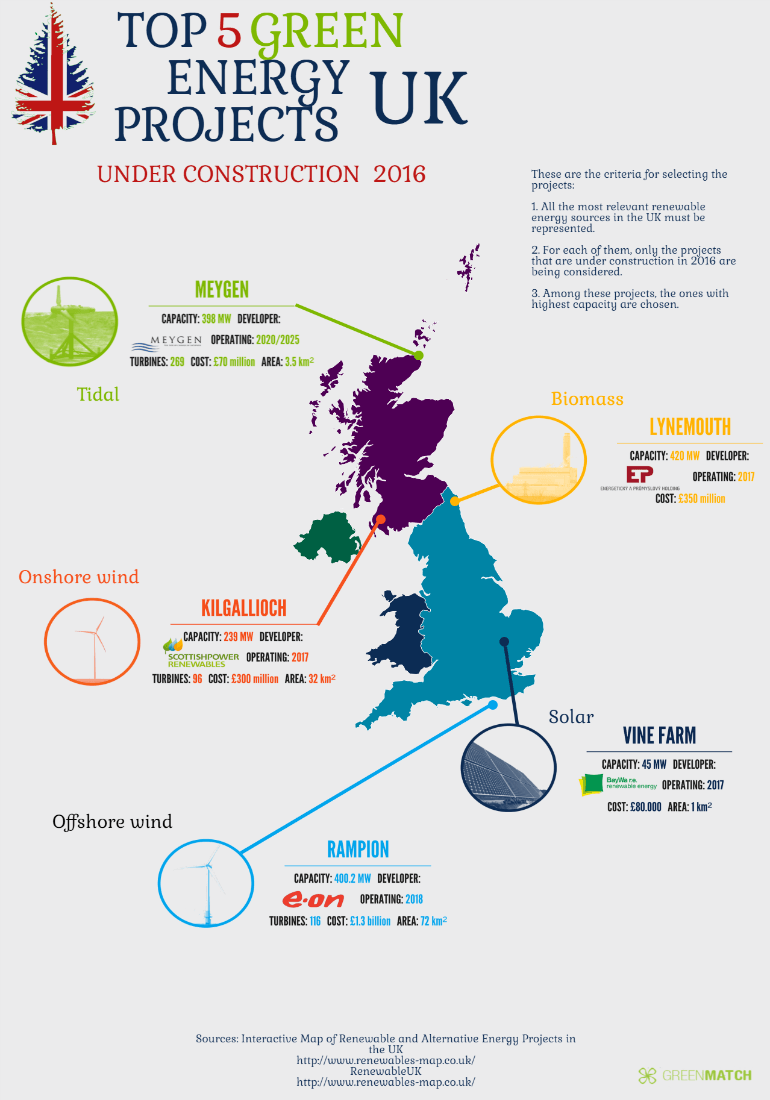 Source: GreenMatch