Where Websites Live
0 min read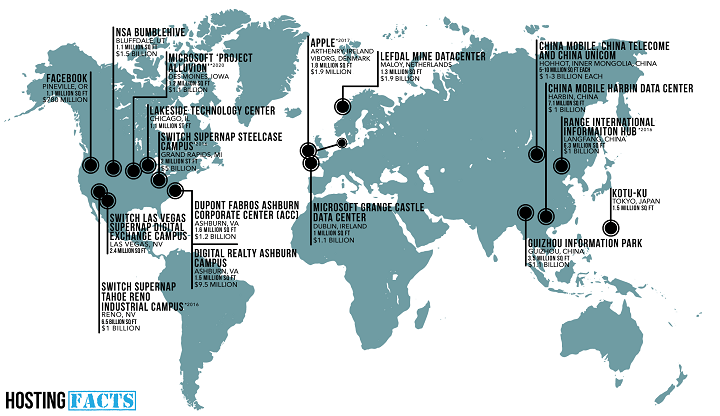 World's Largest Data Centers
Websites are ever-increasingly becoming the livelihood for millions of people around the globe. Because of this, it is just as increasingly important for us all to find a reliable website host and be able to compare them with their competition. Let's take a look at why that might be.
Many businesses, both large and small, are migrating to the cloud, using third party services to maintain, protect, and store their data, instead of purchasing, setting up and managing their own servers.
Larger companies, especially, are finding that it is more cost effective and efficient to ask someone else to house these machines – and the data that goes with them – instead of doing it themselves, which is leading to an increase in demand for data centers around the world.
In the map, you'll see the information that Hosting Facts gathered about the world's largest data centers, plus how much money has gone into creating them, and where they are all located.
The number of websites being likely to exceed 1 billion in 2016, some of the data centers listed on the map may fall off for having less than 1 to 2 million square feet, which they use to house the networks of servers, cooling systems, and other equipment that is necessary for holding all the world's data!
Source: Hosting Facts