Data Driven Business London, 12-13 October 2016
2 min read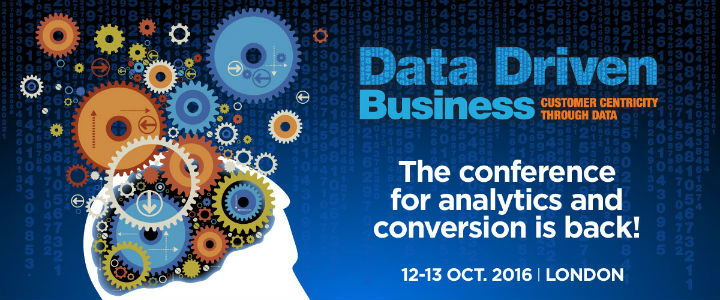 DATA DRIVEN BUSINESS is back – the days of broad online marketing conferences are over – we go deep!
12th – 13th October 2016 @ etc.venues, 200 Aldersgate London

5 parallel conference tracks * 50+ sessions * 60+ speakers * 20+ sponsors * 3 workshops * unlimited networking opportunities
Conversion Conference, eMetrics Summit, Predictive Analytics World and, for the first time in London, Email Innovations Summit, will be the four stars of this onlinemarketing-addicted event that ensures a maximum of synergies and networking. Once again you can dive deep into the art and science of conversion optimisation, digital and predictive analytics and, what's more, you will also have the privilege to meet members of email marketing's most trusted and oldest community.
You will certainly leave with the latest in concrete, actionable strategies and tactics for driving more revenue from your website and understand your customer and business better than ever!
Conversion Conference

Whether you're an optimisation or analytics pro, a marketer, a web designer or a business owner, you can learn, grow and profit from the secrets of the highest converting websites in the world by attending Conversion Conference. Don't waste your marketing budget – discover how to optimize its effect.
Weather you want to learn about advanced user testing, improve the conversion rates on your international websites, get the latest tools and techniques for your mobile CRO – this is the place to come and learn from internationally renowned top experts.
For more information visit the website
Follow Conversion Conference on Social Media:
Conversion Conference on Facebook
Conversion Conference on Twitter
Conversion Conference on LinkedIn
eMetrics Summit
Achieve digital marketing efficiency & effectiveness. At the eMetrics Summit marketing analytics practitioners, experts and visionaries discuss capturing and applying insights from data. Understand where your customers are coming from, what they are doing and how you can facilitate their goals. This year you can learn from companies such as Barclays, Merkle, The Economist, Accenture, Sky and many more.
You want to learn how to implement a digital analytics strategy in a large company, how to work an integrated, automated, programmatic acquisitions platform how attribution keeps your marketing spend under control, how to analyse and monitor the health of your customer base? This and much more actionable advise is what you will take away from the eMetrics Summit.
For more information visit the website
Follow eMetrics Summit on Social Media:
eMetrics Summit on Facebook
eMetrics Summit on Twitter
eMetrics Summit on LinkedIn
eMetrics Summit on Google+
Predictive Analytics World Business

Predictive Analytics World is the leading cross-vendor event for predictive analytics professionals, managers and commercial practitioners. This conference delivers case studies, expertise and resources to achieve:
Bigger wins: Strengthen the impact of predictive analytics deployment
Broader capabilities: Establish new opportunities in data science
Big data: Leverage bigger data for prediction and drive bigger value Companies such as Microsoft, Visa, Siemens, Novartis, IBM and Channel 4 will present how they use Predictive Analytics to thrive their business.
Topics range from practical applications in risk management, vehicle price prediction, cross industry use cases to brand preference predictive analytics and much more. Predictive analytics is the future – don't miss your possibility to learn the latest and meet other practitioners.
For more information visit the website
Follow Predictive Analytics World Business on Social Media:
Predictive Analytics World Business on Facebook
Predictive Analytics World Business on Twitter
Predictive Analytics World Business on LinkedIn
Email Innovations Summit

Jump ahead of the pack at the most anticipated conference in the Email Marketing Industry. Developed in conjunction with the membership of Only Influencers, email marketing's most trusted and oldest community, the Email Innovations Summit is the conference that Email Marketers have been asking for.
For more information visit the website
Follow Email Innovations Summit on Social Media:
Email Innovations Summit on Facebook
Email Innovations Summit on Twitter
Email Innovations Summit on LinkedIn