International DevOps Conference 2016
1 min read

International DevOps Conference With More Than 45 Workshops, Sessions and Keynotes
S&S Media are at the forefront of the DevOps revolution with their fourth DevOps conference in 12 months. DevOps promises to shake up the software development world with its culture of collaboration between software developers and IT professionals leading to fast, frequent and reliable software releases.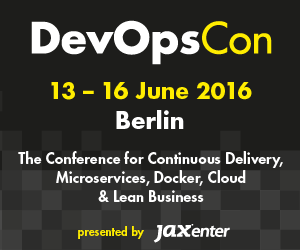 DevOps Con takes place between 13th-16th June at the Steigenberger Hotel, with more than 45 sessions, workshops and keynotes and over 30 internationally renowned speakers. The focus is on Continuous Delivery, Microservices, Docker, Clouds and Lean Business.
The conference is aimed across the spectrum of IT professionals, with developers, system administrators, software architects and IT project leaders equally catered for.
"DevOps Con has established itself as the conference that provides the tangible knowledge required for real transformation. A huge number of terrific speakers share the experience and knowledge of real DevOps pioneers" Sebastian Meyen (CCO, responsible for the conference programme).
International speakers like Jonah Kowall (AppDynamics), Mitchell Hashimoto (HashiCorp), Eduards Sizovs (Sizovs.net), Jeff Sussna (Ingineering.IT), Bethan Brown (EMC) and Stein Inge Morisbak (Bekk Consulting AS) are on hand to provide the international expertise alongside homegrown talents such as Sascha Möllering (Amazon Web Services Germany), Peter Roßbach (bee42 solutions GmbH), Rainer Stropek (software architects GmbH) and others.

The main conference runs from 14th-15th June with keynotes, sessions and a speaker panel. The programme is completed with six full-day Power Workshops on the 13th and the 16th, filled with pragmatic approaches and practical examples from the coalface. Finally, the Expo on the 14th-15th provides access to partners such as T-Systems, EMC Deutschland, Red Hat, Microsoft Deutschland, Black Duck Software, Axway, Datapath.io, Stormforger, Elastic and teutoStack, presenting their innovated products and solutions.
The main conference opens with the keynote "Putting the Service in Microservices" with Jeff Sussna (Ingineering.IT). Mitchell Hashimoto (HashiCorp) "Looking Beyond: Automated Tooling in modern Datacenters" shares what user can expect from the future of DevOps and the Cloud. Markus Andrezak (überproduct GmbH) uses his keynote "DevOps for effectiveness, not efficiency" to describe effective and sustainable DevOps.

Further information about the workshops, sessions and keynotes can be found here:  https://devopsconference.de/en/
DevOps Conference on Social Media:
Facebook
Twitter
Google+
LinkedIn
YouTube