Top Internet of Things (IoT) Experts to Gather in Barcelona
1 min read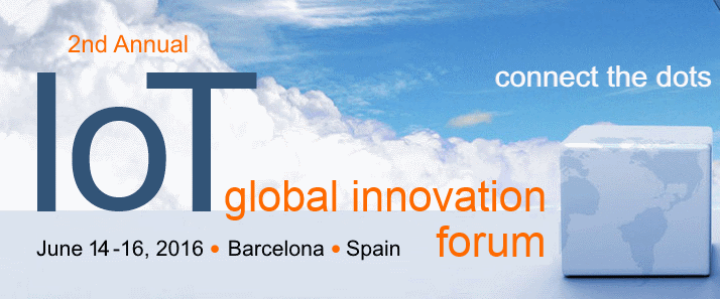 The three-day networking Forum will examine key IoT developments, case studies and implications for business models and operations across verticals.
The 2nd Annual IoT Global Innovation Forum, June 14-16, 2016 in Barcelona, Spain, will bring together leading technology innovators, business strategists and developers from around the world in a focused, executive-level Forum for invaluable information sharing at the IoT cutting edge.
Expert speakers from a range of organizations will discuss the latest applications for traditional commercial processes as well as new business models and opportunities within the emerging Internet of Things ecosphere. This is a unique opportunity to connect one-on-one with key executives driving the future of IoT.
"The content, quality of presentations, and speakers were excellent," says Laura DiDio, Director of IoT Systems at Strategy Analytics, and an attendee at the inaugural edition of the Forum in Dallas last year."The sessions were very informative and attendees were knowledgeable and very engaged. It was a very good conference for networking."
Organized by the Smart Grid Observer, the Barcelona edition in June features in-depth presentations, interactive panel sessions, and workshops that will help attendees envision and implement the full potential of IoT in both consumer and industrial sectors, with an emphasis on the most intriguing case studies and technology innovations.
The audience for this networking Forum includes:
– Technology developers, designers and project managers
– Entrepreneurs, senior executives, and business planners
– IoT hardware and software vendors
– CIOs and IT professionals
– Commercial and industrial executives looking to apply IoT technologies
– System integrators and consultants
– VC investment and financial professionals
– Public policy, regulatory, and government representatives
– Researchers and academic professionals
– Internet service provider, networking, and communications companies
– Consumer electronics and computing companies
– Start-up firms and incubators

Topics to be addressed include:
• IoT Smart Cities and Building Automation
• Wearables and the Consumer IoT
• IoT and the Emerging Smart Home
• IoT Business Strategy and Real-World Case Studies
• Ensuring IoT Security in a Changing Landscape
• Collaborative Disruption: New Era, New Ecosystem
• IoT Implications and Opportunities for Manufacturers & Commercial Enterprises
• Obtaining and Leveraging Value from Big Data Analytics
• Industrial IoT Advances and Horizons
• IoT at the Edge — Cloud Architectures & Data Success Strategies
"The Forum is unique in that it provides a networking environment in which key industry leaders and decision-makers can effectively connect with their peers one-on-one to refine IoT strategy and implementation," says Daniel Coran, program manager. "The emphasis is on quality networking as well as IoT innovations that will have a significant impact on business operations and revenue models."
Presenting organizations include:
Google, Intel, Qualcomm, Nokia, Silver Spring Networks, Sony, digital worx, OIES, Remote Eye, Icontrol Networks, Tendril, Azlogica, Mitre, Intertek, LogMeIn, Urbiotica, Isle of Man Government, L Marks, Uptake, IPv6 Forum, Economic Strategy Institute, Machina Research, Nelmia Robotics Insight, , AutoGrid, Infobright, Splunk, Xilinx, C3 IoT, IoTium, Snapdata.io, and many others.
For full information and to register, visit www.iotglobalforum.com
About the Smart Grid Observer
The Smart Grid Observer (SGO) is an online information portal and weekly e-newsletter serving the global smart grid industry. SGO delivers the latest news and information on a daily basis concerning key technology developments, deployment updates, standards work, business issues, and market trends driving the smart grid and energy storage industries worldwide. The publication serves a global readership of executives and practitioners in the electric power generation, transmission, and distribution industry. Companies include public and privately owned utilities, equipment and component manufacturers, software developers, government agencies and municipalities, consulting firms, and others. For a free subscription, visit www.smartgridobserver.com
CONTACT:
Daniel R. Coran
Editor, Smart Grid Observer
+1-815-310-3343  || dcoran@smartgridobserver.com || www.smartgridobserver.com