The 13th Deepwater Asia Pacific (DAP) 2016
1 min read

The 13th Deepwater Asia Pacific(DAP)2016 Supported by Indonesia Consulate
CDMC Events, as the organizer of The 13th Deepwater Asia Pacific(DAP)2016 are glad to announce that Consulate General of the Republic of Indonesia in Shanghai has made an agreement being our supporting organization. Consulate General of the Republic of Indonesia in Shanghai will not only serve as a wide and reliable platform for Oil & Gas information exchange and networking but also an opportunity for sharing knowledge and practice on Oil & Gas industry. Pertamina (Indonesia National Petroleum company)、SKK Migas (Indonesia Oil and Gas Special Task Force)、Petronas (Malaysia National Petroleum company)、Shell and Chevron will attend the conference.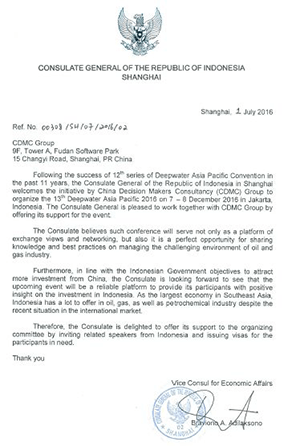 We are also glad to have Dr. Dendi RAMDANI as one of our Eminent Speakers.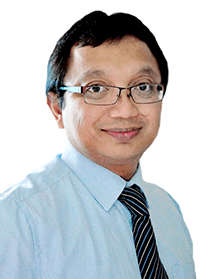 Dr. Dendi RAMDANI is Vice President for Energy Industry PT. Bank Mandiri Tbk. He served as a member of the Oil and Gas Reform Task Force, Ministry of Energy and Mineral Resources and was lecturer at Faculty of Economics and Business before join PT. Bank Mandiri Tbk. He will mainly talk about the Commercial Prospects and Investment Opportunities in Offshore Oil and Gas Industries in Indonesia: Challenges and Opportunities
1. Current Indonesia economic condition and its outlook
2. The evolution of role and government views on oil and gas sector
3. Investment and business opportunities & challenges in oil and gas sector
4. The role of banking in supporting oil and gas sector
With the outstanding success of the Deepwater Series in the past 11 years, we are proud to announce the 13th Deepwater Asia Pacific 2016 (DAP2016) and Deepwater Asia Pacific Awards 2016 will be held on Dec. 7th-8th in Jakarta Indonesia. We strongly urge you to join us in this record-breaking event which is highly recognized for its unique networking opportunities, high level speakers and an expanded program which offers topics covering the upstream offshore industrial chain and highlights the cooperation/coordination opportunities in Asia Pacific deepwater market.
DAP2016 is committed to bring together high-ranking executives and shareholders from upstream offshore industry, to discuss the opportunity and challenge in the Asia Pacific's upstream offshore industry, to showcase the latest technologies and projects, to forge the new partnership, and to contribute to the best players.
Co-related Asian Premier Summit FPSO & FLNG Asia, for more information, please visit the website: www. ffa-annual.com.
More information please visit the website: http://www.dap-annual.com/en, or you can just call Sandy: 86-21- 68407631-8147, or email us: dap@cdmc.org.cn
About CDMC:
China Decision Makers Consultancy(CDMC)is the first and the largest professional conference organizer in Asia. Since founded in 2004, CDMC has successfully organized hundreds of events, conferences and exhibitions with tremendous attendance. CDMC has millions of decision makers' database. We witnessed the rapid growth of Chinese market in the past 12 years. On May 2016, CDMC was listed on National Equities Exchange and Quotations (Chinese OCT Equities Markets).