FPSO & FLNG Asia 2016
1 min read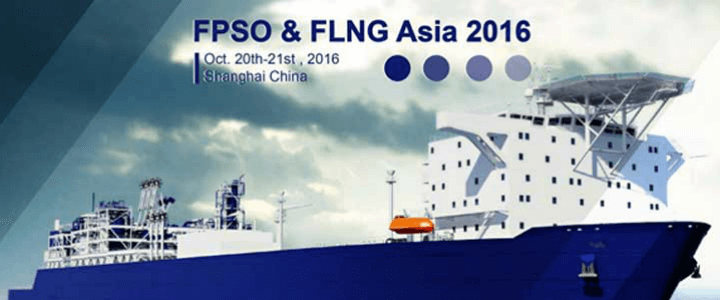 FPSO & FLNG Asia 2016
Seizing New Opportunity in the FPSO
& FLNG Market on Oil Price Rebound
FPSO & FLNG Asia 2016, which will be held October 20 to 21 in Shanghai, China, will bring together local and international stakeholders including government officials, representatives of industry associations, operators, leasing contractors, EPC contractors, vessel yards and equipment/service providers. The summit will focus on cutting-edge technology, market outlooks and boosting win-win cooperation.
The organizing committee is glad to have the support from the two leading players in FPSO&FLNG industry incl. ——FMC Technologies and Aker Solutions.
Company Profile
FMC Technologies
FMC Technologies, Inc. is the global market leader in subsea and surface systems, and also is a leading provider of technologies and services to the oil and gas industry. FMC Technologies Chiksan Loading Systems expertise's over 60 years of excellence helps the industry stakeholders overcome the most difficult challenges. FMCTI Loading Systems provides advanced transfer solutions – including the first FLNG offloading applications and LNG offshore bunkering Loading Arms – available for handling a complete range of fluids and gases at elevated and cryogenic temperatures for efficient, reliable and safe operations. FMCTI worldwide high-skilled expert team provides immediate and long term services leading customer success.
Aker Solutions
The Aker Solutions Group is a leading global provider of engineering and construction services, technology products and integrated solutions. It has around 22,000 employees in more than 30 countries. Aker Solutions' expertise breaches boundaries both literally and figuratively. The customers are the world's elites, especially the most reputable area – oil and gas production, refining and chemicals, mining and metals.
Important FLNG
Projects Overview
ENI's CORAL FLNG
DEVELOPMENT
PLAN in MOZAMBIQUE
Ophir Energy –
Fortuna FLNG Update
Exmar Offshore –
Future Destination about
Caribbean FLNG
Key Issues To Be Discussed Include:
 FPSO & FLNG Industries in China: Global Perspective with a Local Focus
 Policy Incentive for Boosting FPSO & FLNG market: the Bright Outlook
 Latest Technological Progress of FPSO & FLNG
 Project Management for Better Efficiency and Effectiveness with High Cost Performance
 World Best Practice of FLNG Projects
We cordially invite you to join us at FFA2016 for what will be exceptional. More information, please contact: Sandy, the phone number: 8 6-21- 68407631 or email: ffa@cdmc.org.cn Co-related Asian Premier Summit Deepwater Asia Pacific, for more information, please visit the
website: http://www.dap-annual.com/en
About CDMC:
China Decision Makers Consultancy(CDMC)is the first and the largest professional conference organizer in Asia. Since founded in 2004, CDMC has successfully organized hundreds of events, conferences and exhibitions with tremendous attendance. CDMC has millions of decision makers' database. We witnessed the rapid growth of Chinese market in the past 12 years. On May 2016, CDMC was listed on National Equities Exchange and Quotations (Chinese OCT Equities Markets). CDMC Events covers around 10 industries, including Energy & New Energy, Transportation, Infrastructure, Retail, Entertainment, Finance, Real Estate, Healthcare, Manufacturing and IT. We're able to build a unique bridge between your business and regulators in China available nowhere else as we have a powerful advisory team including China's highest-ranking government officials, illustrious scholars, and industry experts.