Next-Generation Robotics & Automation: Automotive Manufacturing 2016
1 min read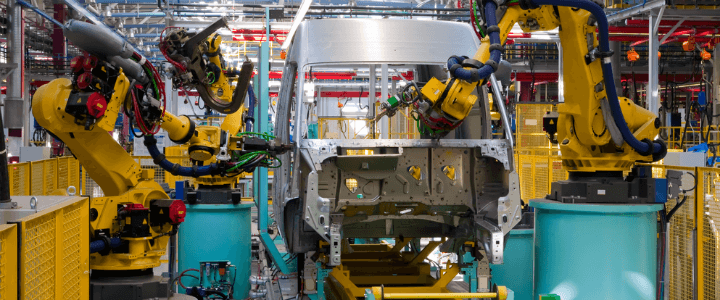 The fall in price of next-generation robots from hundreds to tens of thousands of pounds means that the business case just became stronger for automotive vehicle and parts manufacturers to implement robotic solutions across individual manufacturing lines.
Challenges and pitfalls remain though, with nearly 76% of the target audience lacking clarity on robotic capabilities and implementation best practice. From how to prepare process for automation, to the individual capabilities of each type of robot for individual production lines, OEMs need to know the next best step.
This year's must attend Next-Generation Robotics & Automation: Automotive Manufacturing Europe 2016 Summit will be the only event focused on robotic upgrade and innovation, specifically for the automotive industry.
Co-located with our UK flagship Joining, Forming & Manufacturing Technologies Summit, on 29th-30th November, at the VOX in Birmingham, this must attend event addresses how to retain cutting edge in automotive manufacturing and the tactics needed to get next-generation robots right, first time.

Reasons To Attend:
The Only European Robotics Event Dedicated To The Automotive Industry
Discuss selection and implementation challenges specific to your sector:
8+ Robotic Capabilities Case Studies – Comprehensive access to exclusive manufacturer perspectives on Next-Generation Robotic applications – direct from the plant
5 Process Specific Breakout Groups – Grapple with application, maintenance & selection considerations particular to your production process: Body Shop, Paint Shop, Power Train & Final Assembly
4 Robot-Type Deep Dive Discussion Groups – Discuss with peers the capabilities and attributes of each specific next-generation robot type to address their relevance to your needs: Zero Speed Monitoring, Power & Force Limited, Speed & Separation & Hand Guided Robots
Strategic & Technical Focus – A blended programme offers access to business case and strategic considerations, as well as tactical robotic application techniques
Speakers Include:
Willem Grobler, Technology Project Leader, BMW
Rich McDonnell, Senior Manufacturing Manager TS-22, Jaguar XE & F-Pace Body Construction, Jaguar Land Rover
Dan Lämkull , Methods Developer, Volvo Car Corporation
Ali Ackay, Control Technologies & Robotics – Manufacturing Engineering Development, Daimler AG & Mercedes-Benz Trucks
Register today to profit from the Super Early Bird Discount, and reserve your place at the innovation hub of the European Automotive sector in time!