The 6th All in Print Exhibition in China, 18-22 October
4 min read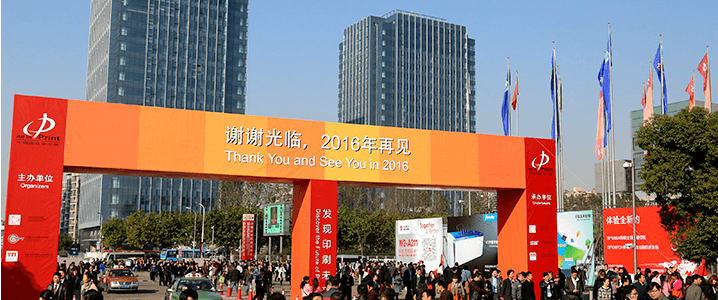 The 6th All in Print China organised by the Printing Technology Association of China, China Academy of Printing Technology, and Messe Düsseldorf (Shanghai) Co., Ltd. will be inaugurated in Shanghai New International Expo Center on October 18-22, 2016.
In order to better understand the innovative highlights and contents of the exhibition, the organisers held a pre-show press conference in Shanghai on August 16, attended by Ms. Wang Yan Bin, Director General of Department of Printing and Distributing, SAPPRFT, and President of Printing Technology Association of China, Director An Le of Division of Distribution and Deputy Director Zhang Qianping of Division of Printing and Reproduction of SAPPRFT Department of Printing and Distributing, Mr. Li Xinli, Chairman of Printing Industry Association of Shanghai, Mr. Chu Tingliang, President of China Academy of Printing Technology, Mr. Liang Chenglin, Executive Deputy Chairman, and Mr. Chen Yingxin, Executive Vice Secretary-General of Printing Technology Association of China, Mr. Axel Bartkus, General Manager of Messe Düsseldorf (Shanghai) Co., Ltd, Ms. Chang Xiaoxia, General Manager of Beijing Keyin Media & Culture Co., Ltd., and other representatives from the organisers, co-organisers and undertakers, in addition to more 100 representatives from printing and package associations, industrial media, famous printing enterprises and exhibitors from Hong Kong, Macao, Taiwan and Chinese Mainland.
Ms. Wang Yanbin first addressed the conference on behalf of the competent authorities and the organizers. She pointed out that under the context of China's policy of deepening of reform and opening up , China's printing industry continued to maintain its quality and efficiency, green innovation and integrated development, "New Normal", "Greenization", "Digitization", "Intelligent" and "Integration" have become the keywords for the development of China's printing industry, and China has been trying to develop into a world printing power from a big printing country.
All in Print China 2016, being a platform for equipment suppliers and demand- supply communication among the enterprises, will witness the development fruits of the future printing. President Chu Tingliang explained that All in Print China has provided several well-designed theme pavilions under the theme of "Discover the Future of Printing" by closely centering on the technological trends on printing and package, and has cooperated with world top brands and ever-growing Chinese enterprises in all fields to present a wonderful exhibition event for the industry.
Since the inception, All in Print China has been rooted in Shanghai, radiating and gradually expanding throughout the world, which is inseparable from Shanghai's international appeal and Shanghai's leading position in China's economy and printing industry. As its sponsor unit, Printing Industry Association of Shanghai has been giving strong supports to All in Print China. Chairman Li Xinli said that, as the co-organiser, the association would as ever give full play to unite all forces in all aspects and fully cooperate in audience organisation, visit and exchange.
General Manager Ms. Chang Xiaoxia from Beijing Keyin Media and Mr. Axel Bartkus, General Manager of Messe Düsseldorf (Shanghai) Co., Ltd. introduced general information about All in Print China, innovative highlights, global promotion, visitors organisation and rich interactive activities. All in Print China 2016 will provide an in-depth communication platform for over 700 exhibitors and over 100,000 person times professional visitors with its 80,000m 2 exhibition area.
Representative exhibitors from all fields will also have their preview release and the participating guests will get early acquainted with the wonderful contents of the exhibition.

Hot-spot- Centered Seven Exhibition Themes
Seven pavilions/areas are themed individually to exhibit the clearly classified technologies and products in industry wide hot-spot fields:
(1) All in Digital
Digital printing technology develops rapidly around the world, in particular, the research and development in inkjet technology and China's digital printing market is much anticipated. All in Print China 2016 still leave the All in Digital and All in Press pavilions in the lead, with HP, Fuji Xerox, Fujifilm, Ricoh, Konica Minolta, EFI, JHF and other top brands having all-round display of their digital printing technologies and comprehensive solutions.
(2) All in Press
Amongst the digital tide, the traditional equipment manufacturers have particularly made creative efforts to revolutionize their products to be more stable, efficient and intelligent. Komori, Beiren, Guanhua, Synnex Group and other companies will make their debuts with their new equipment on All in Press.
(3) All in Packaging
Packaging printing has become one of the most growing industry in recent years continually at a speed of 10%-12%. The explosive growth of the e-commerce industry brings enormous potential to the packaging market. Made-in- China packaging and post-press enterprises will collectively showcase on the All in Packaging pavilion and Bobst, Masterwork, Zhongde Group, Shanghai Yoco and other exhibitors will then launch their new products and solutions.
(4) All in Label
Currently, Asia is the world leader in label market, and the demand for China's label market exceeds 50% of the total in Asia, attracting attention from all over the world. Application of digital printing, eye-catching functional labels, All innovative technologies promoting the development of label printing, all these will be displayed in All in Label.
(5) Ink & Innovative Materials
Printing industry has been transforming from "Content Printing" to "Functional Printing", which proposes higher requirements for innovation, environmental protection and customisability of printing materials. The Ink & Innovative Materials pavilion will collectively showcase the environment-friendly ink and innovative consumables, and these new materials are driving the printing industry to build a fully new and higher value-added service system.
(6) Printing Dream Factory
All in Print China will present a perfect "Printing Dream Factory" to All industry colleagues, where four modules of printing future, web printing, creative application and green printing will be showcased to the audience.
*Printing future: the latest technologies and processes will gather here to explore the printing market with the most market potential and commercial values, personalised printing materials and smart packaging. Meanwhile, 3D printing experience area will also showcase in the dream factory, where you can have an on-site experience on what it happens when 3D encounters printing.
*Web printing: the combination of printing technology with the internet gives rise to a fully new printing pattern: web printing. Here gather all well-known providers of various web printing platforms and the audience can have on-site experience on various advanced web printing platforms and high value-added printing solutions.
*Creative application: it is the integration of printing with creative culture, gathering characteristic paper arts, domestic and foreign award-winning printed materials, personalised printing products and traditional printing technologies.
*Green printing: green printing technologies and applications, one-stop purchase solutions for green printing consumables, in addition to sharing of clean production cases and showcasing on-site activities
(7) Exclusive Flexo-Printing Pavilion
Centered on flexo-printing trend and led by Taiyo Kikai, the Flexo-Printing Pavilion showcases professional flexo-printing solutions in cooperation with equipment and consumables suppliers.

Rich concurrent activities to promote industry wide exchange
(1) Concurrent conferences for prospective printing future
More than 40 professional printing forums and seminars will be held during All in Print China 2016 and various kinds of exchange activities will run throughout the entire exhibition: high-end forums exquisitely planned by the organisers, professional conferences by world industry associations, information seminars, product promotions by the exhibitors, application and discussion, interactive demonstrations and others, enabling all-round contact and interaction among the exhibitors and audience. Various top meetings on international communications, digital printing, label industry, inkjet printing, 3D printing and industry education all gather on All in Print China 2016, including the 16th Asia-Pacific Printing Forum, China Printing Forum 2016, 2016 Asia Digital Printing Award Ceremony and Digital Printing in China Summit Forum, 2016 Sun Cup Asia Label Award Ceremony, 2016 World Label Technology Summit Forum, Asia Inkjet Printing Forum, JHF Cup Asia Inkjet Contest Award Ceremony. All in Print China becomes a platform to witness the year's most valued communication and contests and at that time, pundits from the world printing industry will gather in Shanghai, discussing matters of vital importance, promoting cooperation, sharing resources and winning opportunities.
(2) Interaction among audience to improve exhibition experience
The organisers of All in Print China elaborately organised various activities for the audience, inviting them to have comprehensive communication and interaction with the organisers and the exhibitors. The interactive activities will last from before the exhibition throughout and even after the exhibition, including lucky draw for the pre-registered audience, reception of audience groups, live broadcasting of dream factory release, "Light up Your Stand" interactive activities with exhibitors, "Find the Best All in Print" snapshot contest and other activities. The audience can participate in exhibition exchange, find out the beauty of the exhibition and discover the beauty of the printing industry while enjoying the latest equipment, products and technologies of the industry.
All media were also concerned and enthusiastic about the industry development conditions, preparatory work for the exhibition and participation schedules by the representative exhibitors and asked various questions. On the release, the organisers also invited the participating guests to draw the first round of lottery for the pre-registered All in Print China audience, including rich prizes and several Disney tickets, which makes the audience fully enjoy their journey to Shanghai while experiencing All in Print China 2016.
The 6th All in Print China will be launched soon and the organisers and the exhibitors all have actively and enthusiastically involved in preparing for the exhibition. We believe that under the great concerns and supports from all colleagues, we will present a higher-quality and higher-standard exhibition event for China's printing industry in 2016.
For more information, please visit www.allinprint.com