The 8th International Coffee & Tea Festival, 2-4 November 2016
1 min read

UAE's annual coffee competitions call professional baristas to battle for most coveted titles
National UAE Barista, UAE Latte Art, UAE Brewers Cup, & UAE Cup Tasters Championships to brew storm
The 8th National UAE Barista Championship, the most anticipated competition in the Middle East's coffee industry, is calling skilled and professional baristas to showcase their expertise and knowledge in the event that will begin on November 2, 2016 with a November 4, 2016 finale in Dubai. Besides, there will be three more equally exciting, competitions including the UAE Latte Art, UAE Brewers Cup, and UAE Cup Tasters Championships.
Baristas participating in the National UAE Barista Championship will be judged on a 15 minute performance, where they will prepare four batches each of identically prepared espressos, espresso-based milk beverages, and their very own creation of espresso-based signature beverages, while talking through the process, selection and story behind the drinks, to the audience. The winner of the title will receive the title of UAE's Top Barista and will go on to represent UAE at the 2017 World Barista Championship which will take place in Seoul, South Korea.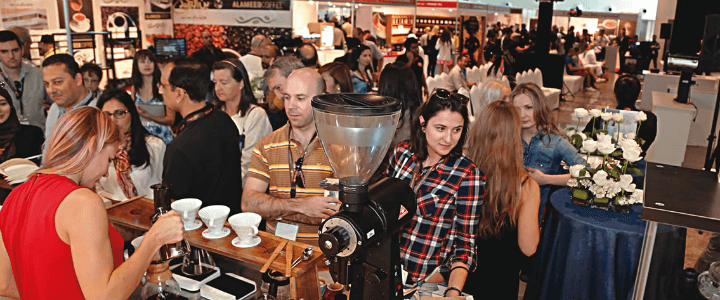 The 5th National UAE Latte Art Championship, on the other hand, will also be a highly competitive platform for baristas to highlight their creative expression in an on-demand performance. Beverages prepared by competitors will be judged for visual attributes, creativity, identical patterns in the pairs, contrast in the patterns, and the barista's overall performance.
Likewise, participants will have to prepare and serve three individual beverages from whole bean coffee for a panel of judges in the UAE Brewers Cup Championship, which promotes manual filter coffee brewing. Lastly, the UAE Cup Tasters Championship will test the speed, skill and accuracy of professional cuppers in distinguishing the taste of specialty coffees.
Anselm Godinho, Managing Director, International Conferences & Exhibitions, organisers of the Coffee Championships said: "The UAE coffee championships offer local baristas a tremendous opportunity to showcase their passion, ingenuity and knowledge in brewing a perfect cup of hot beverage in their profession. We have witnessed a notable increase in participants at the National Coffee competitions over the years with the Barista Championship being the most popular. Going by the current trend, we are upbeat that all the championships will receive wide participation from innovative, creative and talented baristas from the UAE."
Sanctioned by Word Coffee Events (WCE) and affiliated with the World Coffee Championships, the UAE Coffee Championships will be part of the highly awaited International Coffee and Tea Festival which will take place from November 2 to 4, 2016 at the Meydan Gallery & Convention Centre in Dubai, UAE.

To register for the championship, log on to:
http://www.coffeeteafest.com/index.php/championships.