Blockchain Conference Abu Dhabi Announce the Conference Agenda
1 min read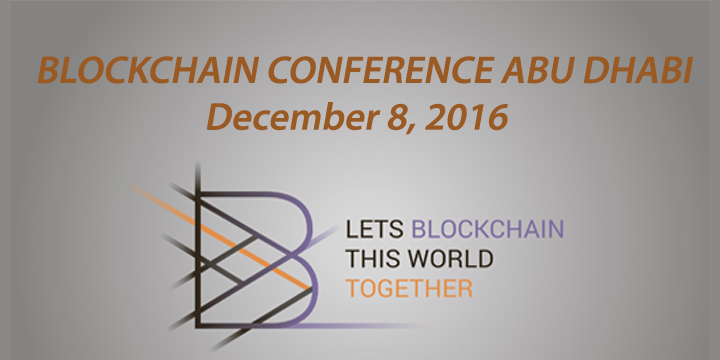 Blockchain Conference Abu Dhabi, the main FinTech event in the Middle East region, will be held on December 8 at Marriott Downtown Abu Dhabi. This activity promises to be multinational, with representatives from 12 countries to share their views on the future of Blockchain technology.
We are glad to announce that the conference agenda includes 5 panels, which are as follows:
Saqr M. Ereiqat (IBM Middle East) – "Your introduction to Blockchain"

Steve Plimsoll (PwC Middle East) – "The future of audit/accounting 2016 version"

Yves-Laurent Kayan (Coinplus) – "Investment in Blockchain: what is worth to know"

Victor Kiriakos (Flat6Labs) – "Blockchain start-ups on the UAE Map"
Rajashekara V. Maiya (Emirates NBD & Infosys Finacle) – "Case study: Blockchain network for Emirates NBD"

Loretta Joseph (Sydney Stock Exchange Limited) – "How to build a blockchain settlement system"

George Basiladze (Cryptopay) – "Bitcoin as a settlement mechanism for card industry"

Cecil O'Brien Owens (Total Technologies and Solutions FZ-LLC) – "Blockchain-based e-voting system"

Hilal Hussein (IDB Group) – "Secure payment system using cryptography, and Blockchain technology"
Madhukar Shenoy (PwC Middle East) – the topic will be announced soon

Christian Chamorro-Courtland (Zayed University Abu Dhabi) – "Law enforcement and regulation"
Pavlo Tanasyuk (Blockverify.io) – "Oil Freight Blockchain Applications"

Marina Reznik (Ubitquity LLC) – "Blockchain technology for real estate transactions"

Dominik Schiener (IOTA) – "IOTA-ledger of things"
Luke Johnson (SolCryptoJV) and Abe Cambridge (SunExchange) – "Overview of the use of Blockchain Technology in the solar industry"
+ Unique presentation of new product to be launched.
Each panel will be moderated by experts, who are skilled and proficient in each topic; they will make the conference day full of pithy discussions and provocative questions.
The conference speakers will talk about new technological solutions, security and privacy issues, collaborations and new products. They will share their practical cases and specific examples demonstrating operation of Blockchain in the best possible way. You will learn how to use Blockchain in your own business and earn more than others.
Join us, if you haven't done it yet!
More information here: www.bconference.org