Electric & Hybrid Vehicle Technology Expo – New Features For 2017!
1 min read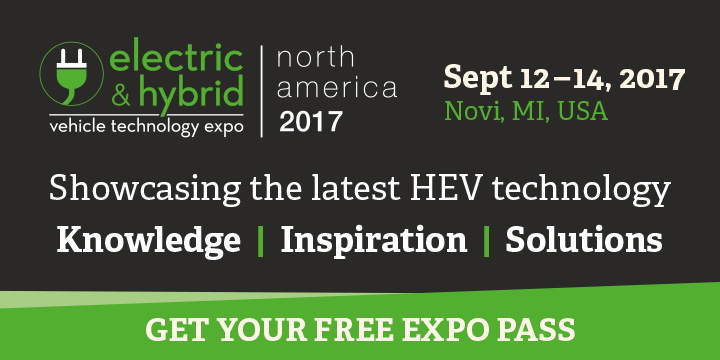 With just over two months to go until the largest H/EV supply chain event returns to Novi, Michigan, the Electric & Hybrid Vehicle Technology Expo 2017 is shaping up to be the biggest and best expo yet, with more than 600 exhibitors, over 30 technical sessions, free networking receptions, and – new for 2017 – a Product Showcase taking place across more than 20 exhibitor booths. With so much going on, this free-to-attend event shouldn't be missed.
In an exhibition that has almost completely sold out, big players from across the H/EV supply chain will provide a unique overview of new technology and solutions coming to the market. Confirmed exhibitors include Valeo, Delphi, Continental, BorgWarner, Lord Corp, and Honeywell. There are only two booths left – contact us for exhibition opportunities.
The Product Showcase is a series of live demonstrations and product launches taking place on the show floor. Visitors to Electric & Hybrid Vehicle Technology Expo will experience first-hand cutting-edge developments in battery manufacturing and applications. Demonstrations include, LORD's thermally conductive encapsulants for motors, and AEM Components AirMatrix's SMD fuses for electric and hybrid vehicles. The full schedule will be available soon.
The Open Tech Forum also returns with an unmissable agenda, featuring more than 30 free sessions covering innovative solutions for the H/EV industry. Optimizing vehicle performance takes center stage with presentations on 'new thermal management materials to improve EV/HEV performance' and 'new possibilities in continuous power optimization'. Make sure you don't miss speakers from CSEG, DuPont, United Chemi-Con, and Wittenstein. Keep an eye out for the full agenda, which will be released later this month.
Once again, Electric & Hybrid Vehicle Technology Expo will provide unlimited networking opportunities, with 7,500 industry peers in attendance and evening drinks receptions in the exhibition hall. The networking receptions are sponsored by Prettl Electric and LORD Corp.
The exhibition, Open Tech Forum, Product Showcase, and networking receptions are all free to attend. To gather together with the best in the industry and ensure you stay at the forefront of developments in the electric and hybrid vehicle market, pre-register for your free expo pass here.