European Mineral Fertilizer Summit, 6th – 7th December 2017, Amsterdam, Netherlands
2 min read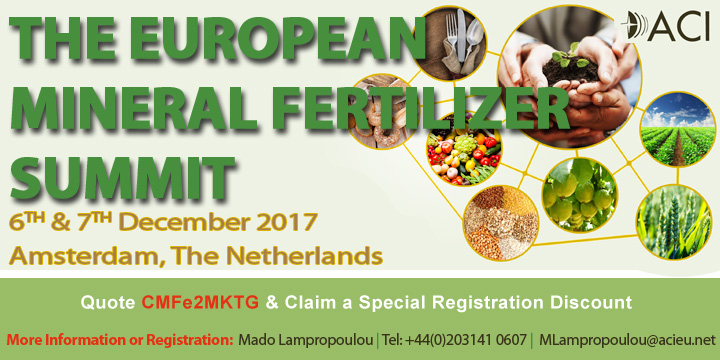 Partnerships, latest technologies & best practices boosting the fertilizer industry
ACI's European Mineral Fertilizer Summit will be taking place in Amsterdam, The Netherlands, on the 6th & 7th December 2017. The two day event will provide an exclusive platform for collaboration and discussion between manufacturers, suppliers, distribution/logistics, academia, policymakers, NGO's and other parties representing the fertilizer market value chain who will get an opportunity to share their views in an informal and intimate setting.
The objective of this conference is to emphasise the latest projects, the innovative specialty products, the new plant technologies and the best practices within operational production. This conference will also focus on tackling the latest opportunities arising from society concerns.
Confirmed Topics for Discussion:
Analysis of the supply and demand in a global and European outlook

The fertilizer perception and their contribution in different sectors

Current updates in the EU Policy & Regulation: Brexit and latest consultations

Expanding the fertilizer market & new opportunities for grow

Worldwide involvements where fertilizers can add value

Agrochemical formulation, applications & production optimization

The potential of specialty fertilizers

Opportunities and barriers in micro-nutrients portfolio development

The latest nanotechnology applications & research initiatives

Up-To-Date trading & pricing overview

Major investment opportunities to boost the industry
Who Will Be Attending?
Fertilizer producers & feedstock suppliers (N (ammonia & urea), P, K, NP, NK, PK & PNK) 

Specialty products developers (Controlled-released & slow released fertilizers,

humic

& water soluble fertilizers)

Fertilizer & feedstock trading companies 

Distribution & logistics companies 

Fertilizer plant technology & equipment providers 

Policymakers 

Investors 

Nutrition and environment preservers 

Environmental and engineering
Principal associations 

Regulatory and Policy Officers 

Expert Consultants
Register today for the opportunity to gain useful industry insights and network amongst the leading industry professionals. With an investment of £1,595 only you can benefit from becoming a part of the story and gain valuable experience and priceless expertise. As the number of attendees is strictly limited, please register as soon as possible to avoid disappointment. Also, benefit from generous group discounts, where the second delegate from the same company will receive a 10% discount and the third 15% off.

For further information or to register, please contact:
Marketing Department
Mado Lampropoulou, ACI 
T: + 44 (0) 203 141 0607
E: MLampropoulou@acieu.net
     We welcome you to join our leading experts at European Mineral Fertilizer Summit!
Please click on the link below to view the latest agenda: http://www.wplgroup.com/aci/wp-content/uploads/sites/2/2017/07/CMFe2-MKTG-Agenda.pdf

Readers/ Subscribers are entitled to a special discount on registration – to claim please contact Mado on MLampropoulou@acieu.net or +44 (0) 203 141 0607 quoting CMFe2MKTG.
Secure your space online: http://www.wplgroup.com/aci/event/surfactants-summit-america/ and mention "CMFe2 MKTG" in Additional Information-Order Notes.
Past Attendees Include: Grupa Azoty – Zakłady Azotowe Kędzierzyn S.A. * Procam Polska Sp. Z O.o. * Phosagro * Agrinos SA * Headland Agrochemicals Ltd * Compo Hellas SA * DB Cargo (UK) Limited * OCI Nitrogen * OCP Group * GCI * JSC Belarusian Potash Company * Generation Investment Management LLP * Scientia Terrae Research Institute * Alba-Milagro SpA * ICL Fertilizers * International Nutrient Management Institute NMI * Koppert Biological Systems * HAVER Engineering GmbH * Euroports Belgium NV. * Plant Health Care, Inc. * IHS Chemical * Green Markets – A Bloomberg BNA Business * VFRC (Unit Of The IFDC) * The European Commission * Fertecon * Microspore * Fertilizers Europe * Ostchem * Sirius Minerals * UK Trade & Investment Department * SHB Miller * Yara International * Haver & Boecker OHG * Ameropa AG * University Of Cambridge * China National Chemical Information Center * Azotic Technologies * International Grains Council and many more…