Economic Journal Partnered with Arena International Announces the Upcoming Retail Banker International Asia Trailblazer Summit and Awards 2018
1 min read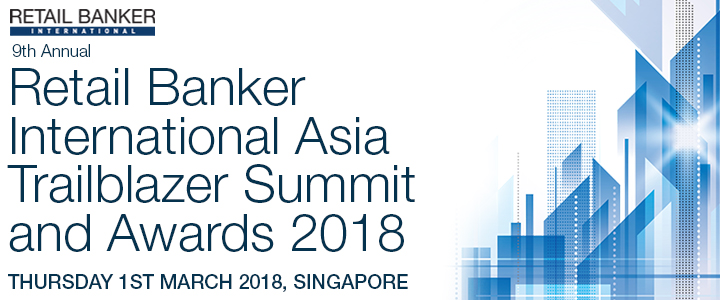 Defining the Future of Retail Banking
Thursday 1st March 2018, Singapore
Retail Banker International Asia Trailblazer Summit and Awards is in its 9th year for 2018 and is being hosted by the renowned publication 'Retail Banker International' (RBI). RBI has, for the past 35 years, been the only global editorially independent retail banking briefing service.
RBI's Asia Trailblazer is a highly anticipated event for 2018 as it will provide a platform for strategic executives to evaluate avenues for growth and innovation and offers attendees an opportunity to explore, compare and decide on their future technology investments.
The Day Summit
With modernisation changing the face of banking, the day summit will focus on 3 key themes to dissect challenges, pinpoint opportunities and address the practical considerations for achieving the objective of remaining a relevant and engaging bank.
The core themes to be explored for 2018 include:
Creating impactful customer experiences
Leveraging on technological progress
Identifying profitable new client segments
The topics to be explored will underpin the ongoing objectives of retail banks in remaining competitive, becoming future-proof and determining the metrics available to ensure success.
Case study presentations, interactive discussions and debates about these key themes from the most senior and experienced individuals and institutions in the sector, will benefit the attending delegates greatly.
The Awards Gala Dinner
Following a jam-packed day of networking and innovative content, the evening Awards Gala Dinner will celebrate the most innovative, impressive and successful initiatives from Retail Banks over the past year.
32 awards will be given for wide-ranging achievements and will look to highlight leaders in the industry and their efforts to progress the Retail Banking sector. The award categories are as follows:
Product and Service Awards
Process and Strategy Awards
Marketing and Communication Awards
Channel Innovation Awards
People Awards
Trailblazer Awards
For 2018, there are 11 exciting new competitive awards for institutions to compete for, including:
Best Credit Scoring Innovation
Best Savings Plan Offering
Best Payments Innovation
Best Retirement Product or Service Initiative
Best Innovation Programme
Most Creative Marketing Collaboration
Best App for Customer Experience
Best Mobile Wallet Initiative
Excellence in OmniChannel Integration
Excellence in Employee Engagement
To find out more about the RBI Asia Trailblazer Summit and Awards visit our website here: http://www.arena-international.com/rbi/ or email us at events@arena-international.com