Economic Journal Partnered with Arena International Announces the Upcoming Digital Integration in Wealth Management Conference 2018
1 min read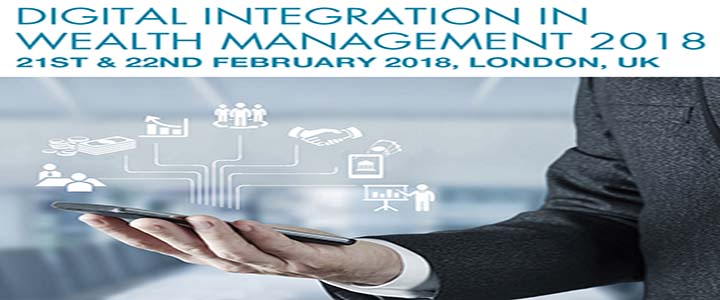 The only event to focus on the integration of digital capabilities with existing processes to enhance client engagement and reach new segments
Wednesday 21st February-Thursday 22nd February 2018, London
Voted by Business Insider as one of the world's must attend Fintech events in 2017
Arena International is proud to announce that the second Digital Integration in Wealth Management conference is returning to London!
Last year's launch event went exceptionally well; as it was named as one of the worlds must attend Fintech events in 2017 and 2018 is going to be bigger and better.
The two day conference is the only one in the world to focus specifically on the integration of digital capabilities with existing processes in the wealth management sector. The event will provide a platform for experts in the wealth management industry to come together and discuss the benefits, objections and practical steps they can take towards digital integration in wealth management.
What is different and beneficial about this event?
Our fantastic line-up of pundit speakers will shed light on how wealth management companies can better address resistance to adopting digital channels. They will also address key industry issues from a case study perspective and outline strategic answers.
Our interactive roundtable discussions are the perfect opportunities for delegates to discuss the best methods of integrating digital tools to communicate with their segments, with their competitors and companies of differing clientele. Hosted by industry experts and each focused on a single issue, roundtables offer a unique opportunity to build your personal network and learn from the experience and expertise of others.
With more firms moving out of London due to the threat of Brexit, our interactive panel discussions will establish plausible futures of what will happen in the next few years. For example, Rob Hudson (Head of Digital Distribution, Aberdeen Standard Investments0, John Barrass (Deputy Chief Executive, Personal Investment Management and Financial Advice Association) and Vidur Varma (Product Director- UK Consumer Bank & International Personal Banking EMEA, Citi) will be evaluating the implications of Brexit to attain a secure understanding of potential regulatory adherences and plausible futures to mitigate uncertainty.
Additionally, many researchers in the wealth management sector expressed concerns about social media usage and upcoming GDPR changes. Our Q&A sessions with John Barrass and Tina Cracknell (Head of Digital Marketing, UBS Wealth Management), illustrate how we can better understand the limits of social media usage and how to utilise social media to attract new segments.
List of key speakers from leading Wealth Management companies
James Dunne- Head of Digital Investment, Santander
Shauna Mullin- Head of Operational Platforms, Santander Wealth Management
Sam Halliday- VP, Digital- Barclays Wealth Management
Vidur Varma- Product Director- UK Consumer Bank & Investment Personal Banking EMEA, Citi
Tina Cracknell- Head of Digital Marketing, UBS Wealth Management
Sasha Dabliz- Marketing Director, Rothschild & Co. Wealth Management
Dominic Traynor- Head of Digital, M&G Investments
John Barrass- Deputy Chief Executive, Personal Investment Management and Financial Advice Association (PIMFA)
Thierry Derungs- Chief Digital Officer, BNP Paribas Fortis
Gareth Johnson- Divisional Director- Head of Digital Channels and Investment Services, Brewin Dolphin
Daniel Hernandez- EMC Head E-Connectivity Solutions, Commerzbank AG
Simon Kingsnorth- Global Head of Digital Marketing, Citi Private Bank
Kim Ngan Tran- Chief Innovation Officer, BNP Paribas Fortis
Bartosz Golba- Head of Wealth Management, Global Data
Brandon Mayo- Head of Wealth Advice and Development, Nordea
Kirsten Burt- Head of Marketing, UK WM & UBS Smart Wealth, UBS Wealth Management
Tiziana Lamberti- Head of Brand, Advertising, Consumer & Digital Marketing, Generali
Rob Hudson- Head of Digital Distribution, Aberdeen Standard Asset Management
If you would like to know more or have any enquires please visit the website at http://www.arena-international.com/wealthmanagement/ or email at events@arena-international.com