Christopher Hadnagy brings social engineering prowess to headline UC EXPO 2018
2 min read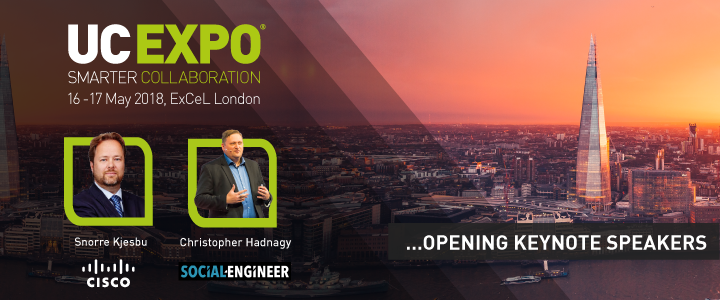 Social engineering expert Christopher Hadnagy and Snorre Kjesbu of Cisco to open this year's two day event
Thursday 05 April 2018, London – UC EXPO, Europe's largest unified communications and collaboration (UC&C) event, today unveiled Snorre Kjesbu, VP/GM Cisco Collaboration Endpoints Technology Group and Social Engineering expert Christopher Hadnagy, as this year's opening keynote speakers.
If you're looking for the inside track into empowering employees with collaboration then who better to provide it than the man who leads collaboration giant Cisco's operations. Snorre Kjesbu will be kicking off proceedings on Day One of UC EXPO 2018 with a look into how new UC&C technologies can help organisations accelerate productivity, enable better decision making and build trust in a rapidly changing market.
But as UC&C technology evolves so do the security risks to organisations. The line between greater security and greater collaboration is a fine one. To help organisations strike the right balance, and better understand how their employees can be compromised, the original social engineer Christopher Hadnagy will open day two of UC EXPO 2018.
In a rare appearance outside the US, Hadnagy, perhaps most well-known for establishing the world's first social engineering penetration testing framework, will be taking attendees on a journey into social engineering, asking is the phone really more dangerous than malware? In his keynote Hadnagy will explain why social engineering is such a threat and play recordings of where he's been able to get access to companies' data simply by using a phone – it's a session not to be missed!
"At UC EXPO we've always strived to provide attendees with access to the most innovative and informed individuals in their respective fields, in order to ensure attendees get the most holistic view of unified communications and collaboration possible," comments Bradley Maule-ffinch, EMEA Portfolio Director for UC EXPO. "By bringing cyber security to the keynote stage at UC EXPO, with Christopher Hadnagy, attendees will be able to get insight very few people in the world have, into how hackers are going beyond the traditional realms of cyber security with social engineering. As collaboration tools advance, its cyber security understanding like this which will separate those who adopt smarter collaboration successful from those who don't."
With two days of presentations, seminars and panel debates from industry leaders, Kjesbu and Hadnagy join the roster of over 100 inspirational speakers at UC EXPO 2018, including:
Ric Harvey, Technical Developer Evangelist at Amazon Web Services

Kim Wylie, Head of Customer Change and Transformation at Google Cloud

Dr Nicola Millard, Head of Customer Insight & Futures at BT Global Services Innovation Team

Mark Davies, Cloud Services Director at Westcoast

Praful Shah, Chief Strategy Officer at RingCentral

Pat Richard, Principal Microsoft UC Architect at VOSS Solutions

Blair Pleasant, President and Principal Analyst at COMMfusion
UC EXPO 2018 takes place on 16-17 May 2018 at ExCeL London. For further information and to register free for UC EXPO 2018, please visit: www.ucexpo.co.uk. Get involved on Twitter using the #UCEXPO hashtag.
About UC EXPO
UC EXPO is Europe's largest unified communications & collaboration (UC&C) event, for those looking to find out how the latest unified communications can drive and support their business. The event showcases brand new exclusive content and senior level insights from across the industry. UC EXPO 2018, together with and the world's largest UC&C LinkedIn group delivers news, insight and knowledge throughout the year. Attending UC EXPO 2018 will help to ensure business decisions are made based on the latest best practice for improved communications and collaboration whilst allowing organisations to continue or start their journey in enabling workforce mobility. The 2018 event will bring together 6,500 ICT professionals, 100 specialist suppliers and world class exclusive education through 100 free to attend seminars.
Media contacts:   
Keiran Prior
0203 841 8500
Speaker or exhibitor enquiries:
Gemma Smith / Marnie Spicer          
020 3176 4700