ICT SPRING 2018: Building Smarter and Automated Ecosystems
4 min read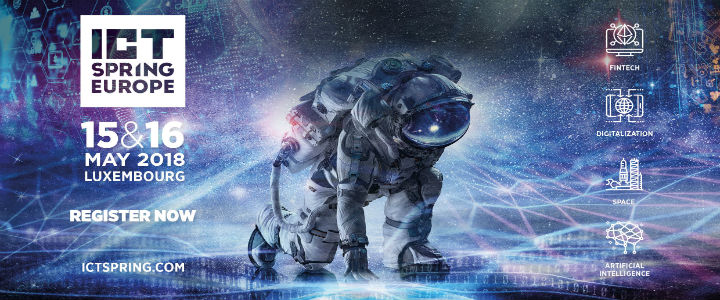 Experts to gather in Luxembourg on May 15th & 16th to discuss the latest digital trends and innovations
Luxembourg, April 20th, 2017 – Next May 15th and 16th, more than 100 experts will share their knowledge and discuss the latest Digital, FinTech and Space trends during a new edition of ICT Spring. The tech summit, organized since 2007, will take place at the European Conference Center Luxembourg, at the very heart of Europe. Today, the organizers are announcing an impressive list of international speakers, companies and innovative startups, who will participate in the event. Xavier Bettel, Luxembourg Prime Minster, Pierre Gramegna, Minister of Finance and Dan Kersch,
Minister of State Administration and Administrative Reform, will also participate and share the government strategy and Luxembourg's ambitions in today's digital Europe.
Digital Summit: from the development of eSkills to how New Digital Economy can improve your daily life
In today's hyper-connected world, constant development and training have become crucial. And so is attracting and retaining talents. Therefore, HR, marketing, communications and digital combine on a daily basis have become inseparable. Eskills will be the first main topic to be addressed in this digital summit and will highlight new needs related to education, training, agility, but also new generation of leaders arising. Other topic will focus on customer experience and tomorrow's model of consumption. In a digital economy, people consume differently whether this it related to information, travel, education or the way people buy their food. The rise of Artificial Intelligence is also re-shaping several industries as it undeniably creates never-seen-before customer experiences. As a matter of fact, it even allows entrepreneurs to develop new services as well as entire new business models. The change in people's daily life because of an impressive amount of data to manage will be the last chapter of this summit and will enable to discuss nowadays' fundamentals around circular economy and smart cities.
Dan Kersch (Luxembourg Minister of State Administration and Administrative Reform), Hanns Koehler-Kruener (Managing VP of Gartner), João Ricardo Vasconcelos (Policy Analyst, Reform of the Public Sector, OECD), Sergio Coronado (Lead Coach at Luxembourg Tech School), Francisco Garcia-Moran (Chief IT Advisor at European Commission), Romain Martin (Professor at University of Luxembourg), Jack Parsons (CEO of Big Youth Group), Ben Towers, Filip Nuytemans (General Manager for Western Europe and Central Eastern Europe of UBER Eats), Rodrigo Sepulveda Schulz (Managing Partner at Expon Capital), Nicolas Princen (CEO of Glose), Javier Juncadella (CEO of Nektria), and Axel Schmiegelow, CEO of itravel), Gary Bolles (Chair for the Future of Work, Singularity University), Jean Rognetta (Editorial Director, Forbes France), Cindy Spelt (CEO, Supermassive Black Hole), Samar Singla (Founder, Jugnoo), Charbel Fakhry (AI & Data Scientist, Meritis), Stephan Tual (Former CCO of Ethereum and Co-Founder of Atlas-Neue) and Fateh Amroune (Director/Founder, Kemada SAS) have already announced their presence.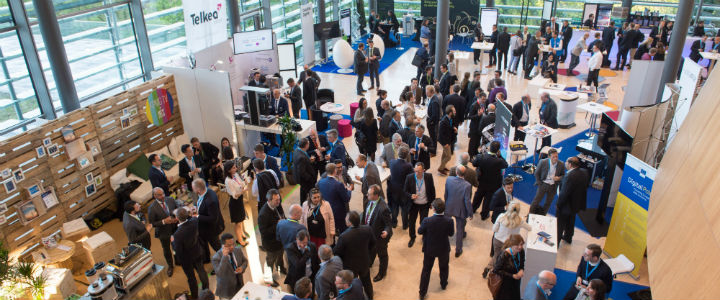 FinTech Summit: Innovations to shape the future of the financial industry
The last ten years have seen incredible innovations hit, disrupt and transform the banking, funds and insurance industries, just to name a few. From mobile banking to robo-advisory, technology has become central for any financial institutions who are now facing competition from innovative startups but also from tech giants. What does the future hold for the financial industry? Do banks need to collaborate with startups? What are the main customer pain points that need to be transformed into opportunities? The two-day event will bring answers to these questions in four parts, tackling how banking is shaping business with technology & strategic partnerships, innovation in financial services and payments – covering PSD2 and crypto-currencies, and finally talking about the links between regulation and innovation.
With the participation of Xavier Bettel (Luxembourg Prime Minister), Pierre Gramegna (Luxembourg Minister of Finance), Nicolas Mackel, (CEO of Luxembourg for Finance), Pascal Denis (Partner, Head of Advisory Services, Member of the Executive Committee, KPMG), Sira Ferradans (Chief Research Scientist, Fortia), Jean Devambez (Global Head of Digital and Acceleration, BNP Paribas Securities Services), Eric Mouilleron (CEO, Bankable), Ghela Boskovich (Head of Fintech and Regtech Partnerships, Startupbootcamp), Adina Gregoriu (Founder & CEO of Active Asset Allocation), Carlo Thelen (General Director, Chamber of Commerce Luxembourg), Pascal Bouvier (Managing Partner, Middle Game Ventures), Ned Phillips (Founder & CEO of Bambu Life), Christer Holloman (CEO and Co-founder, Divido), Marie-Hélène Massard (CEO of AXA Wealth Europe & AXA Luxembourg), Jonathan Prince (Co-Founder of Finologee), Ronan Van Der Elst (Leader, Deloitte Digital), Florian Graillot (Partner at Astorya.vc), Hans van Grieken (Deloitte EMEA Technology Research & Insights Leader, Deloitte NL), Nasir Zubairi (CEO, LHoFT), Charlene Lea (CEO, Home Loan Guarantee Company and Housing for HIV), Ning Wang (CEO Europe, PingPong), Laurent Nizri (Founder & General Manager of the Paris Fintech Forum), Catherine Fournier (CEO, Natixis Payment), Patrice Fritsch (Executive Director, EY), Joschka Friedag (CEO & Co-Founder, Cringle), Damien Guermonprez (Chairman, LemonWay), Paul Brody (Principal & Global Innovation Leader, BlockChain Technology, EY), Jean-Louis Schiltz (Attorney in private practice, Schiltz & Schiltz), Andy Bryant (COO, Bitflyer), Marc P. Bernegger (Member of the Board, Crypto Finance Group), Bianca Lopes (FinTech Influencer), Pascal Rogiest (CEO, Luxtrust), Eliad Saporta (Managing Director of Coriunder), Izhar Arieli (CEO, Scannovate), Ramin Niroumand (CEO, Finleap) and Pascal Martino (Partner Advisory & Consulting, Deloitte) will participate.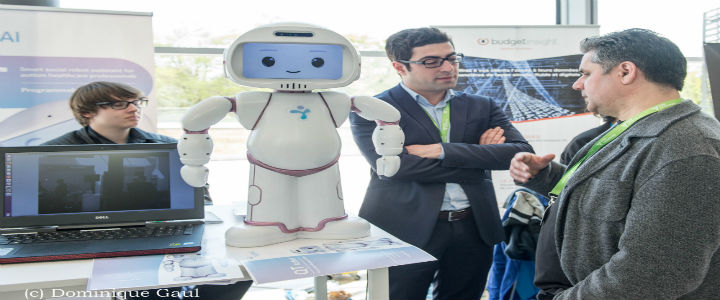 Space Forum: connectivity through efficient satellite data management
With Luxembourg becoming a major player in the new space race through the willingness to mine asteroids, but also through its leading satellite industries and ever-growing ICT sector, the organizers have brought together first-hand knowledge individuals with a focus on space activities and its convergence with the ICT sector and terrestrial businesses to discuss key topics including satellites data management, mobility reinvention, investments, earth observation and the disruptive technologies in the space sector (2814).
The experts that will share their knowledge are: Xavier Bettel (Luxembourg Prime Minister), Patrick Biewer, (CEO, GovSat), Peter Platzer (Co-Founder & CEO of Spire), Rainer Horn (Managing Partner of SpaceTech Partners), Jean-Yves Le Gall (President of CNES), Jason Crusan (Director Advanced Exploration Systems at the NASA), Omar Valdes (Market Development Officer at the European GNSS Agency), Kathrin Lenvain (Head of Innovation Competitions at AZO Space), Yasrine Ibnyahya (Principal, Advanced Concepts at Inmarsat), Masao Fukushima (Engineering Director at Nissan Motor Co., LTD), Grant Anderson (President, CEO & Co-Founder, Paragon Space), Ondrej Doule (Assistant Professor, Florida Institute of Technology), Stephen Coulson (Head of Industry Section, ESA), Andreas Veispak (DG Internal Market, Industry, Entrepreneurship and SMEs, European Commission), Corentin Guillo (Founder & CEO, Bird.i), Sylvain Arts (Business & Marketing Director, Earthlab), Maher Khoury (Senior Sales Director EMEA, DigitalGlobe), Anthony Baker (Director& CEO, Global Satellite Vu), Valery Komissarov (Portfolio Manager, Skolkovo Foundation), Jacques Breton (Commercial Director, Arianespace), Mark Boggett (CEO, Seraphin Capital), Rick Tumlinson (Founder, New World Institute), Andreas Dippelhofer (Project Manager for Space Exploration Masters, AZO), Fabrice Croiseaux (CEO, InTech) and Jean Daou (Professor at the National Graduate School of Chemistry in Mulhouse).
ICT Spring Gala Dinner: rewarding the best practices in the field of ICT
After an insightful day of conference (May 15th), the 600 members of international ICT community will attend the ICT Spring Gala Dinner. This gathering encourages emulation and networking professionals on a European scale.
About ICT Spring
ICT Spring is a Global Tech Conference hosting an array of international professionals. This two-day yearly event is held in Luxembourg City, and offers the participants a unique opportunity to deepen their Digital Knowledge, capture the Value of the fast-growing FinTech Industry, and explore the impact of Space Technologies on Terrestrial Businesses, through exhibitions and demonstrations of the latest Tech Trends and Innovations. ICT Spring is also the perfect place to network with peers and future business partners.
ICT Spring is organized by Farvest Group, the leading marketing & events agency in Luxembourg.
More information & registration: www.ictspring.com
Press contact
Charlotte Boutelier
+352 26 27 69 26
charlotte.boutelier@farvest.com
ICT Spring
15-16 May 2018
European Convention Center Luxembourg
4, place de l'Europe
L-1499 Luxembourg-Kirchberg
Twitter: @ICTSpring #ICTSpring 
Facebook: www.facebook.com/ICTSpring