Iot Tech Expo: The World's Leading Iot Event Series Announces Keynote Speakers for Upcoming North America Event in Silicon Valley
3 min read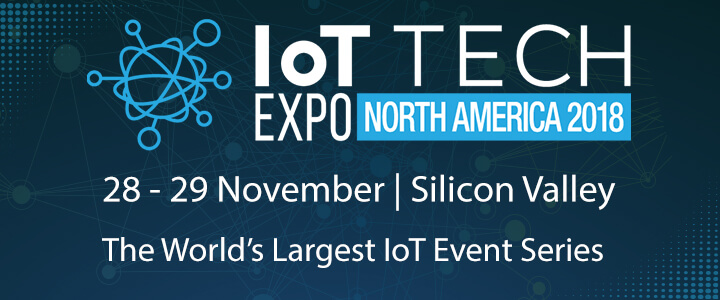 The IoT Tech Expo North America event is returning to the Santa Clara Convention Center, Silicon Valley on November 28-29, and the 2018 edition is set to be the biggest yet!
Attracting C-Level Executives from across the board, the event will bring together 13,000 attendees to explore the entire ecosystem across 4 co-located events covering IoT, Cyber Security & Cloud, Blockchain and AI & Big Data. Over the two days there will be 24 conference tracks, with 500+ industry leading speakers sharing their use-cases and experiences. In addition to the expert discussions, the event will host an exhibition of 350+ companies showcasing the latest technology and innovations.
The leading IoT event series is returning to Silicon Valley later this month and there are plenty of free areas which you can get involved with. Taking place on November 29-30 alongside the Blockchain Expo and AI Expo, the IoT Tech Expo North America event will host 9,000 attendees to explore the entire ecosystem, introducing the latest technology innovations across 15 conference tracks in addition to hosting a vast exhibition of over 300 companies and over 300 industry leading speakers.
The IoT Tech Expo North America will bring together key industries from across North America and beyond for 2 days of top level content and discussion. Exploring the latest innovations within the Internet of Things covering its impact on many industries.
Taking place in the heart of Silicon Valley on November 28-29, the 3rd annual North America event will host an additional 3 co-located events covering Cyber Security & Cloud, AI & Big Data and Blockchain, with 13,000 attendees expected including IT decision makers, CxO's, heads of data and technology, researcher officers, data scientists, developers & makers, OEM's, government and council officials, automotive exec's, operators, technology providers, investors, VCs and many more.
4 Co-located Events. 13,000 Attendees. 24 Conference Tracks. 500+ Speakers. 350+ Exhibitors.
Here are just 7 of the free aspects at the event which you can get involved with:
1. Dedicated Bluetooth Session
Taking place on November 29 on the 'IoT Innovations & Technologies' stage, Bluetooth will host a unique series of fireside chats which will tap some of the leading integrators, suppliers, customers and analysts to explore the impact a newly expanded range of fit-for-purpose network topologies from Bluetooth across multiple sectors, including Smart Industry, Smart Buildings, Smart Cities, and Smart Homes. Panellists from Bluetooth, Intel, National Instruments, Aruba and more will explore how Bluetooth technology is transforming connected places into smart places.
2. The Vast Exhibition Showcasing the Latest Tech
With 300+ exhibitors, including a dedicated AI start-up zone, you will see the latest IoT, Blockchain and AI innovations in action, from bots to drones, connected home devices to Machine Learning, AI to wearables.
3. 2 Co-Located Events
Co-located with the IoT Tech Expo, the Blockchain Expo and AI Expo will allow you to explore 3 ecosystems in 1 and discover how the convergence of these 3 areas is powering the future of technology!
4. 6 Conference Tracks
5. Keynote Panel: Monetisation – Unlocking the Revenue Potential
Within the 'Developing for the IoT' conference, senior-level speakers from Wells Fargo, Visa, Geotab, and Momenta Partners will be discussing different strategies to enable monetisation and achieve competitive advantage and asking the question; Should companies move away from one function devices? The session will explore the role of collaboration, how partnerships can help unlock revenue potential and ways which new data sources can be utilised to provide new opportunities. November 30 – 2pm.
Keynote speakers include the likes of Oracle, Google, Mastercard, Shell, Cisco, Toyota, Centrica, Bluetooth, State of Nevada, Visa, Thyssenkrupp, NASA, Google, Disney, Uber, Wells Fargo, Maersk, Nasdaq and more. The 2-day event will cover a range of industries from manufacturing to finance, transportation to government, logistics to retail, with a total of 12 conference tracks delving into the Internet of Things, Blockchain and Artificial Intelligence.
The IoT conferences are: Connected Industry, Developing for the IoT, Smart Transportation & Cities, Data & Security, IoT in Enterprise and IoT Innovations & Technologies.
A recent study by IDC found the US will have the second greatest spend on IoT investment, expected to reach $421 billion in 2021, just slightly lower than the leader; Asia/Pacific (excluding Japan) (APeJ) with spending expected to hit $455 billion. Manufacturing, transportation and consumer are the 3 leading industries for IoT investments within the United States. With this in mind, the event will feature top-level speakers from these industry verticals who will be sharing their knowledge and case studies.
Keynote speakers include:
Patrick Bass, CEO, Thyssenkrupp North America
Lionel Chocron, VP Industry & IoT Solutions, Oracle
Ben Kieckhefer, Senator, State of Nevada
Greg Wolfson, Solutions Development Lead – Connected Energy, Shell
Maciej Kranz, VP, Strategic Innovations, Cisco Systems
Maja Vujinovic, Chief Innovation Officer, General Electric
Avin Arumugam, SVP, IoT, Visa
Akash Garg, Director of Engineering, Driver Team, Uber
Nina Bhatia, Managing Director, Connected Home, Centrica
Shyam Desai, Vice President, Citi
Ibrahim Gokcen, Chief Digital Officer, Maersk
Jeremy Frank, Group Lead, NASA
Fredrik Voss, VP Blockchain Innovation, Nasdaq
Cyril Perducat, Exec VP IoT & Digital Transformation, Schneider Electric
Andrew Rose, President, Compare.com
Bill Yue Chen, Chief Security Architect, Visa
Dr. Robello Samuel, Chief Technical Advisor & Technology Fellow, Halliburton
John Kenney, Director of Networking Research, Toyota
Michael Sherwood, Director Information Technologies, City of Las Vegas
Daniel Kaufman, Deputy Director, Federal Trade Commission
Chris Shelton, VP & CTO, The AES Corporation
To see all of the above speakers and more at the IoT Tech Expo, Blockchain Expo and AI Expo North America, please visit the website to register for an Ultimate Pass. Super early bird prices end Friday 15th September so register now to save $550 on your all-access pass! Free expo passes also available.
To learn more about the IoT Tech Expo World Series, visit the corresponding sites:
IoT Tech Expo North America – 29- 30 November, Santa Clara, Silicon Valley
IoT Tech Expo Global – 18– 19 April 2018, Olympia London
IoT Tech Expo Europe – Autumn 2018
For speaking, sponsorship and exhibitor enquiries please contact the team at enquiries@iottechexpo.com or call on +44 (0) 117 980 9023.