How to Ensure Your Employees Are Rewarded and Valued
1 min read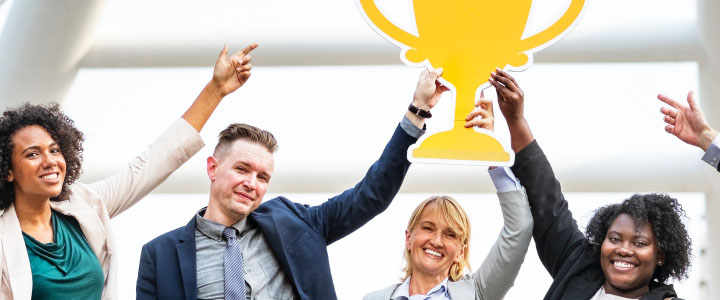 Recognising and rewarding your employees for their work plays a huge part in how well your company is managed. When you own or manage a business, ensuring that the people who put the effort in for your brand every day feel appreciated is a vital step in achieving a higher level of employee satisfaction.
In every industry, a business that takes steps to improve employees' job satisfaction will usually see a positive impact on processes, profits, productivity and more. If you want to reap the rewards of improving job satisfaction amongst your team, we've put together some fun and innovative employee reward ideas for you to try.
1. Trips and Tours
Arranging a fun-filled day or even a whole weekend for your employees to enjoy can be an excellent way to make sure that they know their effort and hard work is certainly not going unnoticed. Whether you're going to fund all or some of the cost, giving your employees the opportunity to take the trip of a lifetime and see some amazing places and sights can be a wonderful way to reward them for everything they do for the brand.
But, don't think big if you aren't in a position to spend a lot on fun trips away for your employees. A day at a theme park, or team building events in London such as treasure hunts, obstacle courses, and escape rooms can be a great way to get everyone together to have fun whilst building their teamwork skills at the same time.
2. Non-Cash Bonuses
When it comes to giving out bonuses and rewards to employees for all their effort and hard work, many employers make the mistake of believing that only cold hard cash is going to be effective. But, whilst the chance to earn some extra money is certainly going to be hugely motivating for many employees, don't forget that there are several alternatives you can offer which can work just as well.
Extra holiday days, a longer lunch break, early finishing, and even paid days off will all cost your company something, but they're certainly cheaper than simply handing out cash bonuses, whilst working just as well for improving employee satisfaction and motivation.
3. Saying Thank You
Worried that your business just simply hasn't got the capital to offer paid incentives? Is your company a start-up with little cash to spend? Don't worry – even the most cash-strapped of business owners and managers can still manage to improve employee satisfaction within their company, often without spending a single penny.
In fact, the easiest way to do this is to take the time to say thank you to your employees and go the extra mile to ensure that they know they are appreciated and valued. Employees want to know that not just their work, but also their opinions, views, suggestions and ideas are respected and valued in the workplace.
Simply being open to ideas and suggestions from members of your team can make a huge difference to the workplace morale and overall satisfaction levels. Keep a suggestion box in the office where employees can post their ideas for improvement, or establish an 'open door' policy, where all employees know that you're always available for a chat about fresh exciting ideas that they've had, their ideas on company developments, or anything else that they think may help.
Ensuring that staff feel rewarded, appreciated and valued for the work that they do is key to running a productive and successful growing company. Whether you have a little or a lot to spend, taking the time to listen to your employees, providing them with incentives and thanking them for their effort will go a long way.