6th Nextgen Payments Forum – Cyprus: Innovation in a Disruptive Digital Economy
1 min read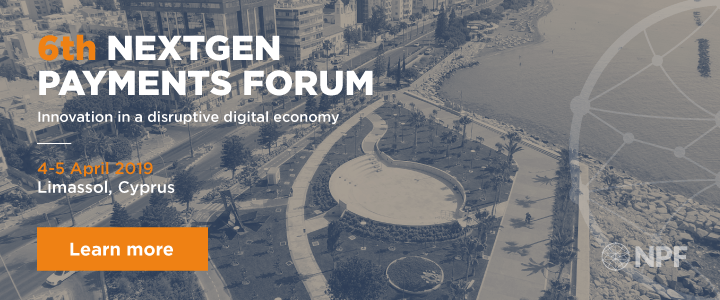 The Nextgen Payments Forum Cyprus, taking place on 04-05 April 2019 is the 6th consecutive Forum within the Global Payments Series. Set to address the online payment ecosystem, upcoming regulatory reform (PSD2) pushing for Open Banking, TPPS & Fintech/Traditional Banking collaboration, Cyber Security & Resilience and new AI & Data-driven innovations.
The 6th Nextgen Payments Forum is inviting its international network of industry influencers to Cyprus – one of the Mediterranean's most popular investment business trade routes, strategically located to be the perfect back door for innovative digital businesses wanting to passport into Europe, Asia-Middle East, and Africa markets. This exclusive payments Forum will bring together policymakers, leading solution providers, regulators, institutional representatives, as well as senior executives from the Banking, e-Merchant, Retail, Insurance, Investment, Trading and Gaming industries from across the globe.
Keynotes, interactive panel discussions, and challenger sessions will tackle vital industry challenges, explore current trends and introduce new market innovations as well as highlight business success projects/schemes – set to disrupt the industry. Participants will get the unique chance to hear high-caliber expert insights from such renowned industry shapers as the Forums' chairs Peter Oakes, Founder, Fintech Ireland, Board Director, TransferMate & Susquehanna International and Tony Craddock, Director General, EPA.
It's worth mentioning that Jason Lane, EVP, Market Development Europe from Mastercard will be providing his insight on how the payments industry was affected by the recent Directive introductions of PSD2 and GDPR. Where Maria Teresa Arráez, Deputy Head of Division – Market Integration from the European Central Bank, will be sharing the EU's Instant Payments Scheme (TIPS) – set to revolutionize the payments infrastructure within the SEPA. Furthermore, Christopher Singh, Head of Regulatory Compliance, Revolut and Ajwad Hashim, Vice President, Innovation and Emerging Technology, Barclays will be presenting the legal side of tech, the business case for AI and ML as well as a respective policy response to tech.
A brief sample of the companies that will be present include: Deloitte, SEPAGA, Ecommbx, Bank of Israel, National Bank of Belgium, Starling Bank, AXA Group, Central Bank of Cyprus, Huawei, IBM, European Banking Federation, Bank of Cyprus, Oropay, ePayments, ConnectPay, ProFee, Lewben, Marlow Navigation and many others.
---
To learn more about this exclusive Forum please visit www.npf2019.com or contact the event producers directly at info@qubevents.com
Premium Sponsors: Deloitte, Oropay
Supporting Sponsors: SEPAGA, Ecommbx
Key Collaborators: ICPAC, The Banking Scene, Association of Cyprus Banks, European Banking Federation, Emerging Payments Association, Fintech Ireland