Opal Group's Impact Investing Forum 2019: Generation Change in Investors
1 min read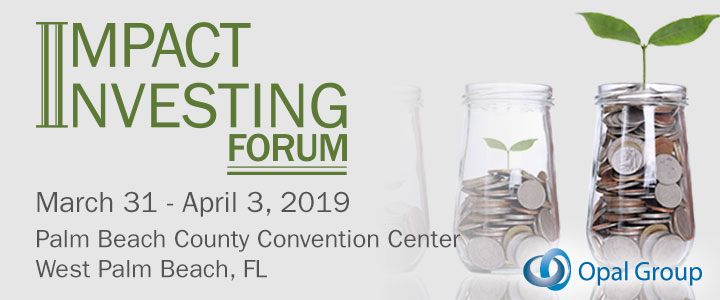 Opal Group, an organisation that arranges leading global conferences, is proud to announce their Impact Investing Forum 2019, taking place on March 31 – April 3, 2019 in Palm Beach Country Center, West Palm Beach, Florida.
Opal Group will be hosting this event with the attendance of Top Investors, Money Managers, Accounting & Law Firms, Endowments, Foundations and more industry professionals. Opal Group's Impact Investing Forum will discuss the generation change of today's investors, from baby boomers to Millennials and how this ever changing industry will change and align with the beliefs of Millennials.
Opal Group's Impact Investing Forum will allow for business relationships and opportunities to be made, while allowing these key decision makers to share their insight. Topics that will be discussed include looking at opportunities in public equities and fixed income, program related investments (PRI), mission related investing (MRI), value based investing, the role of shareholders and more!
Happening on March 31st, Opal Group will be hosting a pre-event for registered attendees to network and create any business opportunities among each other. This pre-event will be a networking brunch at the International Polo Club Palm Beach. Attendees will be invited to watch the 115th U.S. Open Polo Championship, which is known to be the most prestigious polo tournament in the world.
Opal Group's events differ from other event making organisations because we offer exclusive, invitation only conferences to top decision makers. Each of our conferences are unique because we provide a combination of discussion formats for attendees. We offer hands-on workshops, one-on-one meetings, round tables and pre-scheduled meetings. Opal Group's main goal is to ensure that only accurate and reliable information is discussed and for attendees to create meaningful business relationships with each other during each of our events.
---
For more information on Opal Group's Impact Investing Forum & pre-event or to register for an invitation, please visit:
opalgroup.net/conference/impact-investing-forum-2019/
Contact:
Sherry Shin
212.532.9898 x 345
sshin@opalgroup.net