Affordable Cleaning Tips for Businesses
2 min read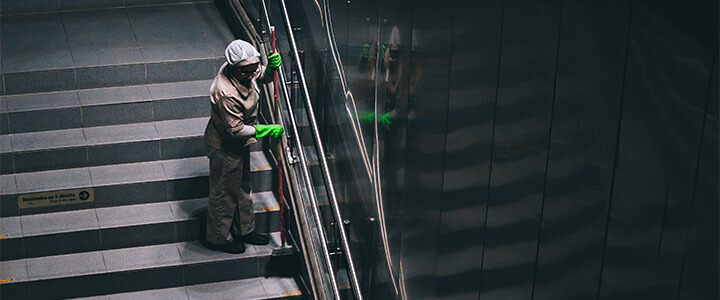 Do you have a do-it-yourself attitude when it comes to your business? It can be easy to take charge, but as your business grows, it's important to learn when to delegate. In fact, taking time out of your valuable day to do routine chores could be costing you.
That's because time is money. We've all heard the phrase. But's it's especially true for entrepreneurs, managers and high-level employees. According to one survey, small business owners value their time at an average of $170 an hour. That's a steep price for emptying trash bins, sweeping floors and picking up after employees.
One way to free up time and save money is to hire a cleaning service that will take care of your needs. In your free time, you can tend to the hectic aspects of a healthy, growing business.
Still not convinced? Ask yourself the following questions to see if it's time to look for outside help:
Do you struggle to keep your facility clean?
Is your staff unmotivated to chip in?
Does your facility look less than its best?
Is your time better spent elsewhere?
Don't wait for a routine annoyance to become a full-blown problem. Plus, hiring a cleaning service is cheaper than you think. Read the five tips below to discover more affordable cleaning for your business.
1. Ask for References
Ask people you trust about quality services in your area. If you pick the first cleaning company you see, you risk having an unpleasant experience that leads to more wasted time and money.
If you don't know anyone who hires professional cleaners, look online for businesses with good reviews. Be sure to read reviews carefully to make sure they don't sound fake or bought. Real customers often talk about small details and personal experiences.
2. Request Multiple Estimates
Sure, you've heard a recommendation or read good reviews. But that doesn't guarantee a positive experience. Make a list of all your options and gather estimates from each one.
This will give you an idea of what each service will charge based on your location's size and the type of service you're looking for, either general cleaning or deep cleaning.
Be sure to include any unique factors about your business, like a hard-to-reach location or the potential for bio-hazards, and talk about special requests you may have. This will prevent miscommunications down the line that can waste time.
2. Seek Proof of Insurance
You might be tempted to save a few bucks by hiring an independent or uninsured contractor. Don't. You could end up spending more money later when an accident occurs. Sure, it might not happen. But it could, and it has the potential to cost you millions.
Instead, do your research and find a reputable company offering proof of insurance. Not only will insurance cover any damage to your facility and belongings, but it will also clear you of liability should a cleaner get hurt on your property.
3. Lease Your Own Equipment
Finance or lease equipment to save money when hiring a cleaner. Many cleaners rent or lease equipment themselves, passing along the inflated fee to their customers. Cut your costs — and invest in a useful tool — by looking at alternative options.
Equipment like vacuums and burnishers can be financed and brought to your business on day one, able to be used as you make affordable payments. And cleaners will appreciate not having to transport heavy machines from one place to the next.
4. Have Employees Chip in
Ask employees to do simple tasks, like take out their own trash each week or wipe down desktops at the end of the day. These chores only take a couple of minutes each day, but those minutes could add up to a lot of time saved for professional cleaners.
Instead, cleaners can spend their time on more complex tasks, such as shampooing carpets or waxing floors, something an employee wouldn't typically do. Dedicate a few minutes each day, typically around closing time, for employees to clean up their personal areas.
How to Save Money on Cleaning
Save time and money by hiring a cleaning service to take care of your needs. As cleaners complete routine chores, you can focus on what's important — your business and employees. Plus, hiring a cleaning service is more affordable than you realise. By asking for recommendations and gathering estimates, you can ensure a positive experience you'll want to repeat again and again.
Remember, if you plan to hire professional cleaners, look for a service that's fully insured. This can save you thousands should an accident occur on your property. And be up-front with any special needs and requests, such as the need for deep cleaning. To save even more money, rent or lease equipment that can be used as you make regular, affordable payments.
Bio
Emily Folk is a conservation and sustainability freelance writer. Check out her blog, Conservation Folks, or follow her on Twitter for the latest updates.