How ISO 9001 Benefits Complex Logistics Networks
1 min read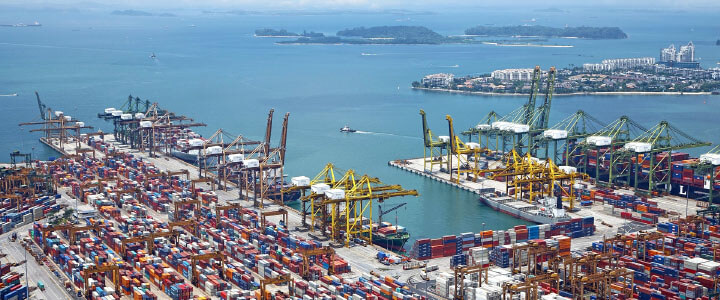 A complex logistics network relies on efficiency to ensure that each aspect of the network works in sync, and that goods flow with minimal disruption. ISO 9001 certification can help you to implement systems and policies that will streamline your processes and increase the efficiency of your complex logistics network.
Optimise Time-Critical Processes
A logistics network relies on every component operating with minimal delays and maximum integration. A network operating at peak efficiency will keep goods moving constantly until they reach the end customer.
A quality management system (QMS) can help you to control the processes that ensure a delivery is made on time. But it will also help you to analyse your entire logistics network, ensuring that every component of your network is operating well, and improving areas where goods
Improve Customer Satisfaction
Just as there is more to a logistics network than the final delivery, so too is there more to customer service than simply making that delivery on time.
Your customers will have their own expectations as to what constitutes great customer service, but communication, complaint handling, and integration into their own supply chain are all likely to be on their list. A QMS can help establish processes to ensure that all of these factors and more are handled quickly and efficiently to ensure that your customers are satisfied at all times.
Boost Profits
Logistics networks can become very complicated. Growth, new parties, and new requirements may all have necessitated ad hoc changes to your processes that could potentially leave them less efficient than they could be. Implementing a QMS will highlight and help to remove inefficiencies, now-defunct steps, and duplications, as well as finding new opportunities for efficiency that reduce waste and improve your profits.
Improve Training and Competency
A key part of a QMS is monitoring competency levels and ensuring that appropriate training is taking place. Keeping a formalised record of such things has numerous benefits, including better efficiency, improved health & safety, as well as offering insights into ways the hiring and on-boarding processes can help improve competency at the beginning of an employee's time with you.
Win New Business
ISO 9001 can often be a requirement when bidding for new contracts, meaning that you won't even be able to submit a bid if you don't have certification. But, even where certification isn't a requirement, it can give you an edge over your competition by demonstrating your investment into a QMS that meets an internationally-recognised standard, proving your seriousness and commitment to quality.
Enjoy Greater Success with Accreditation
For an even greater advantage over your competitors, and to ensure your QMS is the very best, be sure to get your certification from an accredited provider.
ISO certification in the UK is accredited by the United Kingdom Accreditation Service (UKAS), a body that has been appointed by the government to assess the ability and competence of certification providers. Getting your ISO 9001 certification from a UKAS-accredited body demonstrates that your organisation operates at the highest standards of quality, and that your QMS is regularly audited to ensure it remains at that standard.
A complex logistics network works best when each element is working at peak efficiency, both by itself and in conjunction with every other element. Implementing a QMS via ISO 9001 is can not only identify inefficiencies within your network, but also help you discover new opportunities for further efficiency and the benefits that come with it.