Registration Is Now Open for Real Estate Finance, Investment, Valuation & Modelling Workshop
1 min read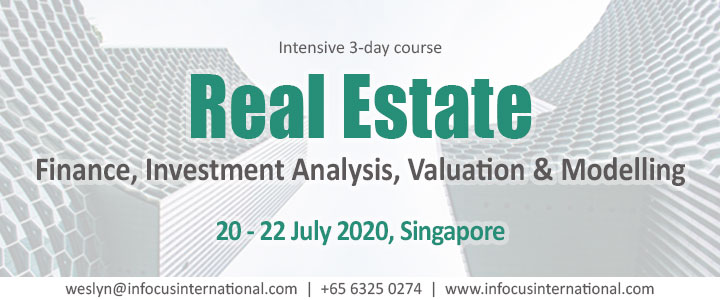 Infocus International Group has released the Real Estate Finance, Investment, Valuation & Modelling workshop and it will be holding in Singapore from 20th to 22nd November 2020. The registration is open now and there are limited seats available.
Real estate construction or investment requires a high level of technical expertise in building and using financial models if the building is to be profitable for its builder or owner. This has not always been available, with the result that a large percentage of real estate has been built or bought without the necessary understanding or planning to underpin decision making. The consequence of this lack of planning has often been disastrous. Therefore, professionals have to continuously upgrade and evolve especially in this dynamic real estate market in order to keep pace with one of the most active and profitable investment opportunities.
This course will teach all the available techniques of real estate finance, investment and development, and how to apply them practically through the use of Excel, as well as providing insights into real estate modelling software such as Estatemaster and Argus. An extensive use of regional case studies will be adopted to illustrate the principles covered. Ultimately, participants will get practical tips on layout and style in building and analysing user-friendly models which are available as additional benefits of attending the course.
Past participant from HLC commented, "Very relevant to what we are doing, particularly building a feasibility. Trainer is very passionate about subject matter – very engaging presenter. Also, small group size was good – more personal interactions."
Benefits of Attending
Place real estate in a global context and appreciate what key risks are for the sector
Learn market analysis techniques, data and reports
Analyse the risk and returns of investing in real estate
Develop land banking, investment and development bank proposals for real estate
Evaluate discounted cash flow valuation, investment and development frameworks and financial models for lending analysis
Integrate leases, tax and finance into real estate lending at project and corporate level
Analyse and build robust models for complex property development and portfolio
Take away a wide range of financial models for real estate
Use both debt and equity financing structures and techniques
Model any real estate investment scenario
Be inspired. Just one good nugget of inspiration will repay the cost of the course hundreds of times over
Simply email to weslyn@infocusinternational.com or call +65 6325 0274 to register your attendance. For more information, please visit www.infocusinternational.com/realestate.