Opal Group's Exchange 2020
0 min read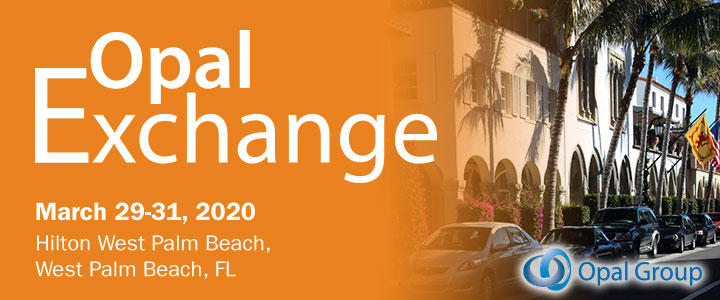 March 29-31, 2020 (West Palm Beach, FL) – Opal Group, a global conference organiser that caters to top executives and influencers, is excited to announce the Opal Exchange 2020. This three-day event is for institutional investors, money managers, and consultants who will be given effective networking opportunities. Opal Exchange will take place at the Hilton West Palm Beach in West Palm Beach, FL on March 29-31, 2020.
Opal Exchange is the premier one-on-one networking event held by Opal Group in 2020. The unique format of the event utilises a 1-on-1 meeting scheduler that pairs attendees with like-minded delegates. Between the meetings, provided meals and cocktail receptions, you are given various opportunities to expand your network, build relationships, and gain leads. Some of those within the financial industry that will be attending include foundations, accounting firms, family offices, hedge funds, venture capitals and so much more!
"If networking is what you are looking for than look no further. We designed this event to push you into new relationships and opportunities each step of the way" said Opal Group's producer, Doug Borths.
Opal Group puts their effort to only provide premier events, and accurate information. Unlike many other event making companies, Opal Group offers a unique conference format that consists of a combination of discussions, hands-on workshops, panels, one-on-one meetings and round tables to all of their attendees. Additionally, Opal Group ensures that each event will allow for any meaningful relationships to be created between the attendees.
For more information on Opal Group's Impact Investing Forum 2020, visit www.opalgroup.net/trk/oexc2002.html