Opal Group's Impact Investing Forum 2020
0 min read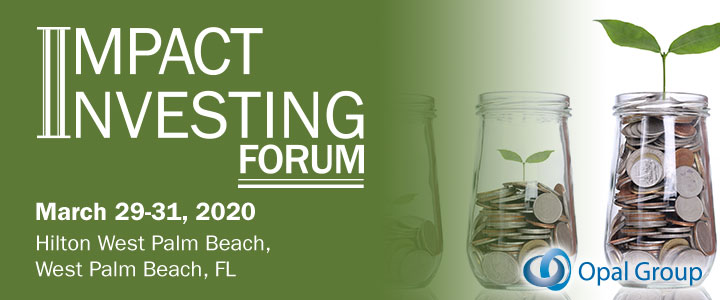 March 29-31, 2020 (West Palm Beach, FL) – Opal Group, a global conference organizer that caters to top executives and influencers, is ending the month of March with a bang. This three-day event is for delegates, money managers, and consultants who will dive into the topic of impact investing. The Impact Investing Forum will take place at the Hilton West Palm Beach in West Palm Beach, FL on March 29-31, 2020.
2020 marks the fifth year anniversary for Opal Groups Impact Investing Forum. Today, we see an increase in companies proving that mission-driven and communication based strategy, can attract value based workforce, investor base, and like-minded consumers. We're bringing those who are leading this trend like top influencers, experienced investors, money managers, and service providers, to speak at this event. Some of the topics they will touch on will be defining impact investing, portfolio construction, asset class opportunities, the role of the investor and more!
"Our events give you the chance to not only learn, but network with knowledgeable investors that come from all over the country which makes it a one of a kind experience." said Opal Group's producer, Doug Borths.
Opal Group puts their effort to only provide premier events, and accurate information. Unlike many other event making companies, Opal Group offers a unique conference format that consists of a combination of discussions, hands-on workshops, panels, one-on-one meetings and round tables to all of their attendees. Additionally, Opal Group ensures that each event will allow for any meaningful relationships to be created between the attendees.
For more information on Opal Group's Impact Investing Forum 2020, visit www.opalgroup.net/trk/iifc2002.html