Is Now the Time to Invest in Video Conferencing?
1 min read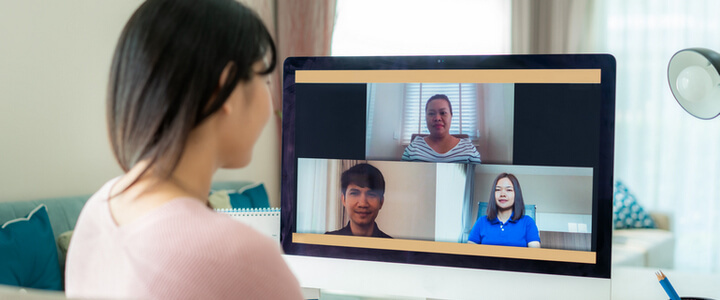 Covid-19 has been disastrous for the global economy. But in any crisis, someone will benefit from it in some way. One winner from Covid-19 has been the video conferencing app Zoom, which has gone from relative obscurity to becoming synonymous with video conferencing for businesses in the same way that FaceTime has become a generic term for video calling with other people. With the current surge of interest in video conferencing apps from both consumers and investors, many are wondering whether now is a good time to buy stocks in video conferencing businesses.
The Zoom Effect
The rush of investors looking to make money on the back of Zoom's rising stock price has accelerated the rate of growth, pushing Zoom's value to a historic high. The interest has been so great that Zoom Technologies, an entirely unrelated business trading on the stock market as ZOOM, received such a significant overflow of investors who were trying to invest in Zoom Video ($ZM) that their share value doubled. A month later, Zoom Technologies had to suspend trading because so many people were investing in them by mistake.
Zoom may be the most obvious beneficiary of this renewed interest, but they are not the only winners. For example, businesses like medio.link that provide more targeted video conferencing services are also seeing the benefits. Their NHS video conferencing service is now more important than ever, enabling healthcare workers to consult with one another remotely. As essential workers and the people who are most exposed to this infectious disease, it is important that reliable video conferencing services that are suitable for relaying sensitive data are available.
Don't Get Caught in the Bubble
Having seen Zoom's success, many other tech businesses that currently offer messaging services without video conferencing have added the feature in recent weeks. Others have beefed up their existing video conferencing capabilities so that they are able to support a higher number of simultaneous users and deliver a generally more robust service. Zoom is still the name that is on everyone's lips, but it isn't the only option.
In fact, the rapid increase in interest over a very short space of time could be indicators of a bubble. When people see the share value of a business rising rapidly from a low point, they try to get in on the action. As more people pile in and start buying shares, the value is increased further. This presents two problems for investors, which we will discuss below.
Deciding Whether to Invest
The first problem is whether the value is sustainable. If the pandemic subsides in a year and demand for Zoom plummets, its share value will drop accordingly. Awareness of this fact leads to the second problem. Many of those buying Zoom stocks are looking to make short-term gains and will be selling their shares as soon as possible. This further destabilises the share value and is another factor to consider when deciding if an investment in video conferencing is right for you.
Investments always come with risks, and there are no guarantees. However, the video conferencing industry is likely to be a strong performer for the foreseeable future. Remember that Zoom is just one option and there are other alternatives out there worth considering.