Is a Master's Degree a Worthwhile Investment?
1 min read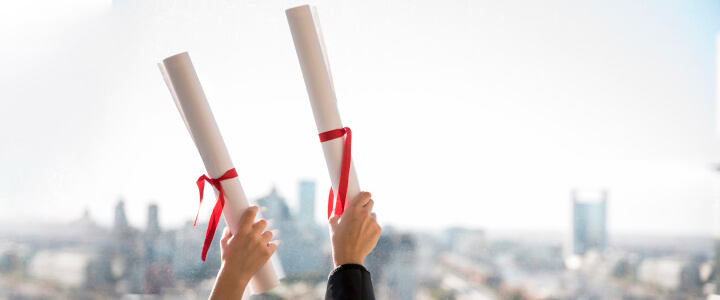 Furthering your education is never a bad thing, but if you're considering going back to university to study for a master's degree, you might be wondering if it's worth the investment of both time and money that you are going to put in.
No matter where you are in your career, whether you're a working professional with years of job experience or freshly graduated from your undergraduate courses, most people have wondered at some point whether a master's degree is worth it.
The truth is, it depends on what you want to get out of it. Certain careers require candidates to possess a masters-level education, in which case, it's definitely worth the investment. Answering these questions can help you determine whether or not a master's degree will be a good investment in your career.
Do I Need a Master's Degree to Achieve My Career Goals?
You want to have a job that you enjoy, are engaged with, and is fulfilling. And, if your lack of a master's degree is holding you back from getting that job, it's definitely worth investing the time and money into getting one.
While some jobs have alternative entry requirements such as a certain amount of relevant work experience or industry qualifications that will help you get the position without a master's degree, others demand a master's qualification with no exceptions.
Will I Make Substantially More Money?
Even though you can get a student loan to pay for your master's degree, you will, at some point, be required to start repaying this. A master's degree is often a huge financial investment, so it's important to consider it the same way as you would any other big financial commitment.
You will need to think about your return on investment; are you going to earn substantially more with a master's degree compared to not having one? Will your salary improve enough to make paying thousands of pounds for a master's qualification worth it? If the answer is no, it might be worth looking into an alternative option.
Can I Afford to Study?
Going to university can be expensive, particularly for master's students who might have been working full-time for a while and have financial commitments like a mortgage that they didn't have at the age of 18-21. It's important to consider whether or not you are realistically able to afford going back to university and keep this in mind when looking for suitable postgraduate courses.
The good news is that many master's degree courses are designed with mature students in mind, and there are distance learning and part-time options that can help make the process more affordable for you.
Check out University Compare to find master's courses suitable for your needs. University Compare lists all the different master's courses available from UK universities, allowing you to narrow down your options and find one that's a good fit for your needs.
Is It the Right Course for Me?
Finally, since a master's degree is such a huge investment of your time and money, it's important to spend some time considering it and making sure that you are choosing the right course and university for you.
Consider how this course and university, in particular, are going to boost your career in the future, and whether the course content is aligned with your future goals. Research factors like the alumni network, department facilities, and the reputation of the university – remember that you don't always have to attend a Russell Group university to get your master's degree to get excellent results.
Whatever industry you work in, there are some situations where getting a master's degree is a worthwhile investment. Ask yourself these questions to figure out if it's the right step for you.