How to Stabilise Your Business in a Time of Uncertainty
3 min read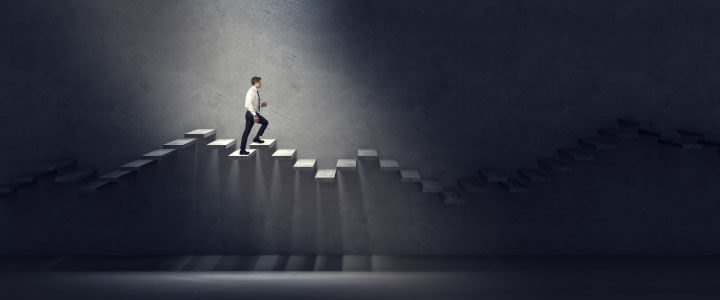 If there is one thing every business owner knows, it's hard work. You put your blood, sweat, and tears into building your business, and the success you earned started to come your way.
Today, business owners face a high degree of uncertainty. One way that small businesses can adapt, is to turn their attention from "uncertainty" to "stabilising" their business. That's because, when a business is stable, it means that profits are usually growing.
However, this is often a lot harder than it sounds and its really all about a mindset shift. If your business is looking to introduce a key strategic change, then here are 5 key tactics that you could implement right now to propel growth.
Be Prepared For Unpredictability
In a perfect world, you could shake a magic 8 ball and get all the answers you need to steer your business in the right direction. Sadly, the world is too unpredictable right now and there are a lot of factors completely outside of your control. Whether it's a global pandemic, a changing political system, illness, or a natural disaster.
You can't guess what happens next, but what you can offset risk by preparing for different scenarios. Think about what motivates your customers, how they perceive your business or brand, where you can branch out into other markets, or even how you could set about motivating your employees.
Whether you are all about services or products, you can improve based on what demand you expect from the market. Get experimental with marketing and pricing strategies. Does that mean success is guaranteed? Unfortunately, no. You will run into obstacles, you may fail, but you cannot win unless you try.
Recognise New Opportunities
As you look to grow your business, you must constantly assess and reassess your business' operations. Here are two of the biggest signs that it's time to grow:
Introduce new service offerings: If your customers are frequently telling you that they love what you do, then it could be a good time to think about other services or products that you do not offer. The best way to do that is simple. The next time you receive a compliment from a customer, just ask them, "We're considering offering a new product/service. I was wondering if we could offer just one new product/service, then what would you love to see us do?" By doing this, it will help you to recognise when you have a new opportunity on your hands.
Consider increasing your prices: If your profits have been increasing steadily, then you may be ready to increase your prices — especially if your business is struggling to keep with demand. You could consider, increasing your prices by 10-20%, or alternatively, introduce pricing tiers — this could simply be just offering a premium product or service. If you do this, then you'll be able to increase both your profits and productivity.
Refine Your Business
With the current business landscape, some businesses have had to reevaluate and refine their business models. Varun Ashok, Director of Mobile Experts, says "With the majority of the shopping centres closed, we've had to come up with new ways to service our customers. With over 30 stores across Australia, but nobody would leave their homes to shop."
Ashok further goes on to say that, "We introduced new services such as Mobile Experts Comfort, so our technicians can do door to door repairs. At the end of the day, phones will always be an essential part of our daily lives and as long as we can serve our customers, we believe we can still thrive in the market."
Your business can thrive, too. You simply need to refine your business plan. What alternative strategies are available? Can you offer at-home visits for your products or services? Talk to your customers, look at what your competitors are doing, and sit down to complete a SWOT analysis with the information you have gleaned. You can update your business plan accordingly and set it in action.
Know Your Numbers
With so much uncertainty in the air, you must know your numbers. Your finances and key performance indicators should be at the forefront of your mind. This is the data that should inform your business decisions. Keep up with your team and know what's going on in your business.
David Alexander, the Director of Student Services at the International Career Institute says, "Track your spending. We can lose track of day to day spending. View your bank statements on a weekly basis, create budgets, and use spreadsheets to monitor areas that are essentials vs on essentials." Here are some key questions to think about:
When was the last time you adjusted your cash flow projections?
Are they any ways that you could further reduce costs?
Is your business productive? And, if you were able to make just one change to your business to increase productivity, then, what would that be?
Do your business need to consider raising capital from angel investors or VCs?
What government financial grants are available in your jurisdiction?
The better you know your numbers, the less surprised you will be by what the industry is going to throw your way. In reality, the better you know your numbers, the better you know your business. And, as a result, this will help you make better-informed decisions.
Prepare to Pivot
If you offer a single product or service, prepare to pivot. With the level of uncertainty, we're facing and will continue to face; you must look at creating sustainable growth. How can you attract new customers? What other products and services may your current customer base also seek out? How can you use that to your advantage?
Lauren Sommer, Director of Moi Moi Fine Jewellery, says "I believe the COVID-19 situation has resulted in a lot of us boutique retailers to reevaluate how the traditional sales experience is done, especially if we want to continue to thrive."
Sommer goes on to say "By introducing new services such as Live Help video consultations and our new Home Try-On service where we send out sample engagement rings to our customers to try on at home, we have been able to replicate the personalised service our customers normally get in our stores but instead, in the comfort of their homes. If other boutique retailers can find their unique way to still reach their customers, they can still grow at times like these".
It's time to develop offerings that align with your current offer. What products, services or targets are you neglecting? What are you missing? Where can you go from here? Ask yourself the tough questions and include your team in the conversation about additional products and services that stay true to your brand message.
Looking to the Future
As you batten down the hatches and attempt to stabilise your business in uncertain times, take this opportunity to improve your time management and quality. Now is the time to look at how your team spends their time and what they focus on. Your business will have a better chance of riding uncertainty out if you use this time to reevaluate everything that you do.
You could think of this as an exercise in gaining control – it's your chance to tackle the weeds and ensure the growth of your garden continues. Try to balance growth, uncertainty, and focus on quality. Now isn't the time to cut corners to save costs.
Lastly, if you are able to shift your mindset to stabilising your business and identify strategic opportunities to expand your service offering, introduce new prices that give your customers more options, then ultimately, this will help your business to thrive during these uncertain times.