How Manufacturers Can Safely Handle Employees Returning to Work
2 min read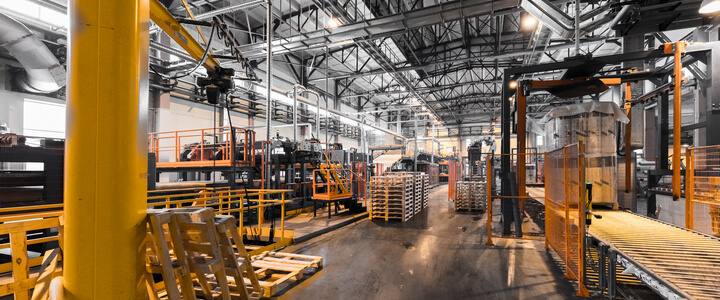 After what probably feels like years, companies everywhere are opening their doors and calling employees back to work. The coronavirus pandemic has not abated, but officials grow confident that the world can start turning again so long as individuals and businesses take specific precautions.
Manufacturers are some of the most essential businesses, so let's dive into how these economic juggernauts can spin up safely again and keep their employees healthy.
1. Implement Screening Protocols
It's advisable that manufacturers curtail all unnecessary visits and traffic into and out of their facilities at this time. When it comes to admitting employees for the start of their shifts, employers have steps they can take to protect themselves and their workers.
The Equal Employment Opportunity Commission (EEOC) weighed in on the question of temperature screening and employee evaluations in March. The Commission's determination is that employers have a right to use thermometers or thermal scanners to identify individuals with fevers.
The EEOC also determined that it is lawful and advisable for employers to ask workers if they have experienced any of the symptoms of COVID-19, such as shortness of breath, elevated temperature, or coughing.
2. Post Clear Instructions
Post-COVID work safety begins with posting clearly-written policies in critical areas around the factory. Examples include:
Requirements for entering the building or sensitive areas
Clear expectations for PPE usage and types
Instructions for cleaning equipment and common areas
The Centers for Disease Control and Prevention (CDC) recommend instilling a sense of ownership in each employee when it comes to cleaning public surfaces and tools after each use. The safest work environments are those with clear expectations.
3. Create Safe Distances
Health officials regularly tout social distancing as key in keeping coronavirus cases at bay. Social distancing can be difficult to create, so manufacturers may have to rethink their layout.
This step might involve moving workstations farther apart, creating single-direction traffic flow in close quarters, strategically installing plexiglass shields and even purchasing automated conveyors or pallet trucks so that employees don't have to travel far or hand off materials personally.
4. Stagger Employee Shifts
Staggering employee shift times throughout the day and week is another of the CDC's best practices for manufacturers during this time. Assembly and distribution facilities tend to experience congestion at time clocks and entrances and exits.
Instead of an entire shift arriving at once, staggering start times cuts down on the likelihood of the virus spreading through the group while in close quarters.
It's possible this won't be realistic for every facility. If that's the case, it's wise to look into other ways to streamline traffic flow into and out of the building. Adding additional entrances and time clocks, or even touchless time clocks, can help keep crowds and slowdowns to a minimum.
5. Provide PPE and Relevant Training
For cleanliness, safety and peace-of-mind, manufacturers must always keep their personal protective equipment (PPE) and cleaning supplies fully stocked. After returning to work, workers want to know they have the tools they need to stay safe and to keep their workspaces clean.
Employers should fully stock up on the following COVID-19 essentials. Storage locations should be clearly marked, and workers should be briefed on how to use these items correctly:
Disposable gloves and face masks
Disposable disinfecting wipes
Paper towels and tissues
Hand sanitiser containing 60% alcohol
6. Look for Tasks to Automate
Sales of automated floor-cleaning robots have soared since the beginning of the pandemic. Floors are not a major worry where spreading the virus is concerned. However, implementing automation in this area helps cleaning crews focus on higher-importance tasks.
As robots work to keep the floors clean, maintenance employees can spend more time keeping high-touch surfaces like break rooms, bathrooms and work surfaces clean.
7. Ask Employees What They Want
The best companies are those that make safety an integral part of their culture and philosophy. Employers have a responsibility to create a safe work environment — as well as find out what that environment looks like from the worker's perspective.
In one survey of what employees expect from their employers post-COVID, research found out that:
86% favour a four-day, staggered work week.
31% signalled approval for weekly COVID testing for each employee.
54% support limiting occupancy in bathrooms.
47% support banning elevator use or limiting occupancy to two persons.
As employers consider safety technologies, it's wise to consider that 31% of workers favoured daily health screenings using apps. Only 17% support the use of sensors to track worker movements and contact.
Work Safety After Coronavirus
The pandemic has been hard on everybody, but the right approach will see us through the worst of it. Manufacturers that tackle work safety today will enjoy the respect of their workforce and the public for years to come.
Emily Folk is a conservation and sustainability freelance writer. Check out her blog, Conservation Folks, or follow her on Twitter for the latest updates.