Things to Consider Before Buying the First Coffee Machine for Your Office
2 min read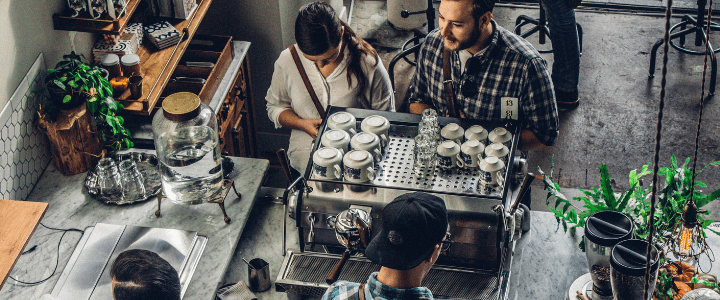 There are so many coffee machines on the market these days that it can be confusing to start thinking about which one to buy for each situation. There are a number of considerations that may make the choice that little bit simpler and therefore whittle the selection down to something more manageable.
How many people?
The first thing to consider – and possibly the most important – is how many people the coffee machine is going to cater for.
If your office is small, fewer than ten people, it may be more cost-effective to opt for a pod machine or Nespresso. These coffee machines produce fantastic, high-quality coffees at the push of a button, and some come with the ability to steam and froth milk, too. The downside to these is that they are not really suitable for larger teams unless you have a couple of coffee machines side-by-side.
On the other hand, if you have a really large workforce coming in to use your open plan office each day, in-built coffee machines may be the way to go. These are expensive but oh, so worth the money. If your team of employees is larger, say in the 30 people plus bracket, these coffee machines are definitely worth your consideration.
Where will it go?
The next thing to think about is where your coffee machines would best be located. For most offices, the kitchen is the obvious choice. However, if your office has a kitchen that opens straight onto the workspace, noisy coffee machines may be too distracting. If your office kitchen is small, larger coffee machines may take up too much space.
But there's nothing to say that coffee machines must go in the kitchen! As long as you have space for mugs, the possibilities are vast. Some coffee machines have milk compartments, so you don't even need them to be near a fridge. Smart coffee machines do all the work for you.
What is the environmental impact?
There's no getting around it: pod coffee machines are not environmentally friendly. The plastic waste that accompanies the Nespresso coffee machines is infamous. Though these coffee machines do produce delicious cups of coffee, they also create a problem that can easily be avoided.
Bean to cup coffee machines are much better. And as an added bonus, your office can have their say in which types of beans go in the coffee machines! A specialist delivery from a well-known company will keep them on their toes and will keep the coffee interesting enough for a little slice of novelty in the working day, without creating undue waste.
Have a think about what you'd like to do with your office and how you'd like to treat the natural world. You may find that reducing needless waste is more important than you realised!
What is the cost?
Possibly the biggest consideration when it comes to coffee machines. There are fantastic options available at every price point, from filter machines that cost less than £100 to multi-thousand pound in-built beans to cup coffee machines. It really comes down to how much you can afford, and how important coffee is to your workforce. There are loads of benefits to coffee, including keeping your employees happy and healthy and reducing time wasted by leaving the building in hunt of coffee, so it's worth weighing up how much money you'll save by keeping your team in caffeine.
Include in your consideration the cost of installation and all the extras. You don't want any nasty surprises when it comes to paying the bill. But it's also important not to give your employees something that doesn't meet their needs, as this will just be throwing money away and will show a lack of respect, to boot.
Balance up the needs of your office with the available budget, then get the very best coffee machines that you can afford. This is a sure-fire way to show your staff just how much you appreciate them and give them a little treat each day.
Can you ask an expert?
When all's said and done, you have things to do. Choosing your office's first coffee machines may be important, but it's not your job to be an expert in everything: there are people who are happy and able to counsel you on your options and help you make a decision. It may be worth getting in touch with a provider of coffee machines to see what they think, what their history of installing coffee machines in other offices tells them, and see how they may be able to help you.
Conclusion
Buying coffee machines is a big decision and one not to be taken lightly. Things to think about include how many people it needs to serve, where it will be placed, the environmental impact of providing coffee for an office full of people, and the costs of buying and installing a specialist machine. Luckily, there are experts whose entire job it is to know all about the coffee machines on the market, who will be able to inform and counsel you on buying your office's first coffee machines.