How To Become An HGV Driver In 2021: A Practical Guide 
1 min read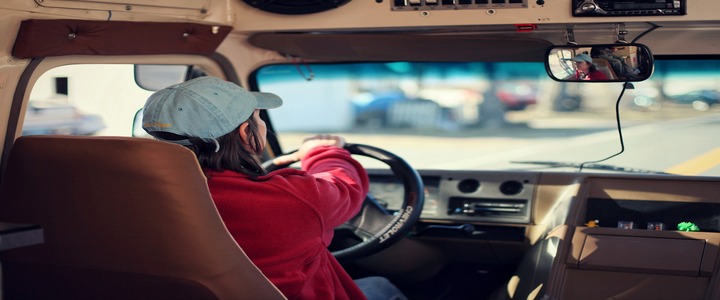 Have you ever considered starting a new career as a heavy goods vehicle (HGV) driver? Do you love driving and enjoy the freedom that the open road can bring? Do desk jobs not suit you? If so, then a career as an HGV driver might be worth considering as it could be the answer to your future happiness.
Becoming an HGV driver is not as over-complicated as some might have initially thought. To start, you need to be over 18 and have a valid UK drivers licence. Despite a shortage of drivers currently in the UK, it is hard work being an HGV driver as you have to be fully committed to the profession.
If you are looking to invest in your future, learn how to drive in the UK and take the following steps to become a qualified HGV driver.
Pick The Right Licence
Depending on the type of vehicle you are considering driving, will decide which HGV licence you should apply for. There are a few categories to choose from, each one is based on the weight of the vehicle, as well as any additional weight that they can tow. The categories are:
CAT C1 – Light goods vehicles between 3.5 and 7.5 tonnes

CAT C – Any rigid bodied vehicles between 7.5 and 32 tonnes, regardless of axles or weight

CAT C+E – Any Draw Bar & Articulated Vehicles
The more experience that you have as an HGV driver, this includes having multiple licence categories, can help to increase the chances of a higher salary. With more experience, there is the potential to earn up to £40k a year.
Undergo A Training Course
After selecting the licence that matches the type of vehicle you are looking to drive, you now have to undergo a rigorous training course. An HGV training course, like the one provided by The LGV Training Company, can take around 6-7 weeks to complete.
Fortunately, most HGV training courses are not that expensive. There are competitive prices out there to take advantage of, with some courses allowing you to get on the road faster and start your career sooner.
Pass The Tests
There are three steps to becoming an HGV driver. The first is an HGV medical, which is a medical examination that must be passed as part of the training program. 
The second is an HGV theory test. Similar to the theory test when you learn to drive a car, an HGV theory test is a multiple-choice exam that you take at a test centre. The final is a practical HGV training course. After passing your theory, you can learn how to drive an HGV with a DVSA certified instructor.
After undergoing all the steps to becoming a qualified HGV driver, the next step is finding the perfect job. In this current economy, there is a shortage of drivers. Meaning that you will have plenty of choices of potential employers to choose from. The sooner you are out on the road you can begin to build on your experience and grow in the industry. Before you know it, you will be gaining more licence categories to help increase your pay. Being an HGV driver can provide you with plenty of opportunities. The reasons for becoming an HGV driver are increasing and there is a rising demand for the skills.