What Will a 'Working From Home Culture' Do to House Prices in the Long Term?
2 min read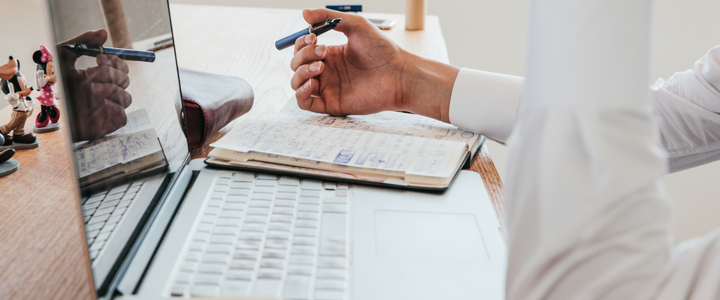 The way we work in the UK and where we undertake said work has certainly been altered as a result of the recent Covid-19 pandemic. Once the pandemic really took hold in March 2020, the UK, like many countries across the world, scrambled to get workers up and running from home to stem the rate of infection and keep businesses going.
In the aftermath of the initial lockdown period from March – May 2020, more than 50% of the UK's workforce were still working from home in some capacity by the summer of 2020, with 34% working completely from home and 22% splitting their working hours between home and the office.
As a consequence, more homebuyers than ever sought a dedicated working space in their new properties in the latter half of 2020, with a home office becoming a priority for 21% of homebuyers by July 2020 versus 12% before the pandemic. Indeed, in March 2021 a survey or first-time buyers found that fast broadband and space to work from home were highlighted as a priority for 62% and 50% of respondents.
Consequently, buyers sought more space, and as the demand for more spacious properties outstripped supply, house prices began to increase rapidly in 2020 and continued to do so in 2021.
With the option to work from home has also come the flexibility to extend our search area when it comes to where we live. Pre-pandemic, employees were happy to live within a 23-mile radius of their workplace on average. However, with the advent of working from home and flexible working opportunities as the norm rather than the exception, homebuyers were happy to double their physical distance from work for the right property to a 56-mile average radius, particularly if this offered savings which allowed them to purchase a bigger and/or better property.
As such, the north/south divide between demand and property prices has also become less acute, with price growth slowing dramatically in the southeast and London (which remains the UK region with the lowest annual growth for the eight successive month) and the more affordable areas of the north (and the northwest in particular) and more rural locations such as Cornwall and Wales experiencing significant rises in both the number of transactions and, concurrently, house prices.
But what will the impact of this 'working from home culture' be for the price of your house in the long term?
Whilst many companies are seeking to return to an office-based workforce in 2021 as restrictions began to lift, the employee demand is certainly still there for home working which can be a huge asset to vast swaths of the population, including disabled workers, those on a lower income who could move to a more affordable area where the prospect of buying versus renting is a real possibility and those with childcare commitments. Now that we have had the opportunity to realise the perks of working from home many employees are reluctant to fully relinquish the idea.
As such we are still seeing jobs being advertised with more flexibility than they would have been pre-pandemic in terms of working from home and longer hours over a compressed working week and interest in jobs which offer more flexible working arrangements has been twice as high.
Both the Conservative and Labour parties are encouraging the idea of flexible working too, particularly as part of our commitment to climate change and cutting the carbon emissions which come hand in hand with a busy commute. Although, as the Chancellor, Rishi Sunak, pointed out last month, there are certainly huge benefits to being office based for at least part of your working week for anyone who is keen to make their mark and rise through the ranks.
There are obviously lots of jobs which still need face to face interaction too, such as those in the health and medical professions, hospitality, transport and retail workers. However, the option to work from home and a more flexible approach to where and how we work (or 'hybrid' working) is still on the agenda when it comes to employment and will remain more popular than it had been pre-pandemic, so it is clear that we also need that flexibility from our homes. As a result, house prices are predicted to remain stable over the next 12 months and beyond as we start to move forward from the Covid-19 pandemic.