In-Demand Technology for Marketers in 2022
5 min read
Working in the marketing department requires the skill to adapt to changes in the industry. Like other departments, marketing professionals should welcome changes that can impact and grow a business.
From traditional marketing to digital marketing, businesses have swiftly shifted the way they reach out to their target audience. Thanks to the power of technology, it became possible.
Technology has played various roles in the marketing department, from tracking insights, providing better content, and more. But in 2022, we are to expect better help from it. As we move forward, technology helps improve ways marketers can promote businesses.
If you are a marketing professional seeking the latest trend or a business that needs to up your marketing strategy, you came to the right place.
In this article, we will discuss the most in-demand technologies you should have for your business. We will also include a brief benefit of why technology can help marketing strategies.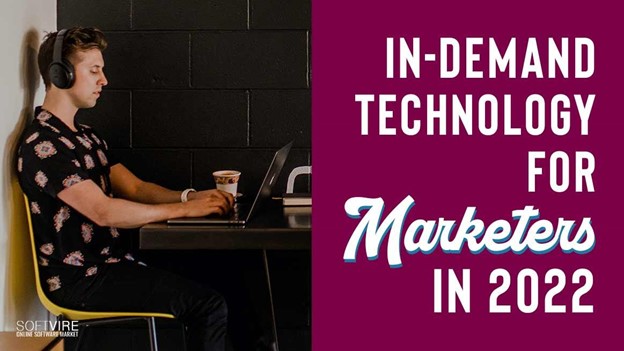 Why We Need Technology in Marketing: The Benefits
It Draws Us Closer to Our Customers
The most valuable part of every business is customers. Without such, businesses won't thrive. Therefore, marketers' goal is to find leads, turn them into paying customers, and create repeat buyers.
To make this possible, marketers need to get the latest technology to help them with their goals. Technology gives marketing professionals and businesses ideas on what goes inside the mind of a customer. You get to track their behavior, preferences, and purchasing habits.
Using mobile technology also helps in communicating with consumers and building a better relationship with them. Since it is the most used gadget, utilizing such can help marketers understand their customers' needs.
Technology can simplify the communication process between the customer and the business. Therefore, providing a better and more personal experience.
Builds Network and Community
Technology is more than a place for socializing for users. Businesses can leverage technology to build a community for like-minded people and network with other organizations.
Networking is valuable for businesses to grow their connections and benefit in many ways.
Measures Data
Data collection helps marketers understand the industry and what customers want, and their behavior. Unlike in the past, marketers have to guess what campaigns to try. They do not have the means to see how their strategies are responding.
Technology changed the way marketers create a campaign and understand them. With the ability to track the performance of a strategy, marketing professionals don't need to spend money and time on things that won't work.
They have the power to use the data and measure the outcome.
Helps Businesses Go Global
For businesses to thrive in the past, the only possibility is to market their product locally. But technology has made marketing strategies cheaper and easier.
The birth of digital marketing made it possible for businesses to market their products and services globally. It grows the business's revenue and welcomes scalability.
It Makes Advertisements Affordable
Since technology allows marketers to track their strategies and gather valuable data, they can allocate a budget for advertisement.
Traditional marketing such as billboards, TV ads, and more are expensive, and its ability to reach the target audience is limited. The presence of modern marketing equipped with the aid of technology made affordable versions of promoting a business.
Marketers can focus on the audience that has a higher chance of buying the product. Also, they can gather possible leads for conversion.
Gets the Latest Trends
Technologies like big data and artificial intelligence can predict future trends and consumer behavior and patterns.
It assists marketers with their campaigns and strategic planning. Furthermore, predicting future trends can help businesses expand and take one step further from their competitors.
Now knowing how technology can influence marketing strategies, let's go ahead and see the latest trends or technologies that will impact marketing in 2022.
Latest In-demand Technologies for Marketers
Artificial Intelligence
Although artificial intelligence is not new in the marketing scene, it still has not achieved its fullest potential. That's why we think that artificial intelligence is still a new and upcoming technology that will trend every year.
No matter what industry your business is in, artificial intelligence has a valuable role in the marketing department. It's more than automating the marketing processes or posting on social media. Artificial intelligence has way past the ability to assist marketers with their routine tasks.
2022 artificial intelligence will improve its ability to predict future trends and customer behavior. Although it has been implemented, the technology will be far more improved than ever. Using the customer's browsing history and online activities, AI can determine what potential customers might buy.
Together with predicting the future, combining AI with other digital marketing strategies like SEO, content marketing, and more will help target the right audience.
Virtual Assistants (VA)
Human intelligence and presence in businesses cannot be entirely replaced by technology. However, the absence of technology will affect the work of a person. Therefore, using technology and human power is a win-win situation.
In 2022, human interaction between customers and businesses will be less likely to happen unless needed. Technologies like chatbots, online virtual assistants, and voice search assistants will be a big trend in 2022.
Chatbots and virtual assistants have already been part of some businesses. They are often included in the customer service team, providing quick assistance to consumers' queries. However, virtual assistance will be more than providing answers to frequently asked questions.
Companies will start to use chatbots and other virtual assistants to a more advanced level. Instead of using VA in the common English language, it will welcome multilingual chatbots to help customers reach out with confidence in their native language.
Another upgrade that VA and chatbots are to have in the coming year is the possibility of accepting payments. Instead of answering questions, consumers can easily ask their VAs to purchase or buy the item, and the VA will process the payment using the customer's credit card or from their bank account.
Chatbots will also upgrade to provide a better experience for customers. It will have more human intelligence and human touch. Machine learning and deep learning will play a role in this improvement.
Marketers will also get to experience real-time sharing of data from chatbots and virtual assistants. Instead of waiting for data to be updated, chatbots deliver real-time analytics and insight from customers for the marketers to understand and improve the service immediately.
Presence of Low Code Skill and Tools
One skill that marketers should know is coding. Although it is not a necessity, it adds value to their skill and marketing process. However, learning to write codes is complicated, and it takes years to learn or master the skill.
The presence of low code practice can now help marketers in their goals and plans. They can fully maximize a tool or create websites with less coding knowledge. Furthermore, it eliminates the need to hire software developers, which reduces the cost.
More businesses will adopt low code development tools like Zoho Creator, Creatio, Mendix, and GeneXus.
Mobile Marketing
Smartphones and other mobile devices will thrive in 2022. In fact, the number of smartphone users will increase in the coming years. That being said, mobile technology should be the focus of most marketers.
People use their smartphones to scroll through social media, buy a product, browse a service, and search online. With that, marketing professionals should start to build mobile apps, optimize websites for mobile devices, and more.
Being able to create mobile-friendly content helps a business increase traffic and conversion rate.
Data Analyzation and Tracking Tools
Analyzing data and tracking the behavior of consumers is vital for marketers to help in their campaigns.
Tracking tools still count to be valuable in 2022. Marketers can use them to monitor real-time behavior and track patterns in consumers' activities.
Even social media will need improved tracking tools to gather and analyze live data. With such, it can provide an immediate improvement on the services offered.
Since most individuals prefer privacy, third-party cookies might not be a better option in 2022. Marketers can use other tools or ways to gather information and data of users to improve their services.
Adopting to Virtual Reality and Augmented Reality Technologies
Even though countries are starting to open up and physical events are possible, there are still customers who prefer to shop in the comfort of their homes.
Using technologies like virtual reality and augmented reality can enhance the user's experience.
Creating an immersive experience can extend a business's possibility and grow its income.
Businesses invested in AR and VR will not only meet the needs of on-site shoppers but also extend to online customers.
AI-powered Influencer Marketing
Influencer marketing is one of the most effective digital marketing strategies that will grow in the coming years. Couple it with AI, and you'll be able to get a better outcome.
Using AI in influencer marketing will bring the change you'll never expect.
AI in influencer marketing is not a new concept, but in 2022, plenty of marketers will invest in this tool.
AI-powered influencer tools can detect genuine followers of an influencer. It can help them see if the influencer can meet their target audience with authentic followers. Also, AI-powered tools can check on the engagement of the influencer and will predict if the influencer can meet the brand's goal.
Social Media Turning to Online Shopping Platforms
Earlier this year, Adam Mosseri, head of Instagram, mentioned that Instagram is no longer a photo-sharing app. They'll be integrating more features and focusing on ways similar to their competitors.
Content creators and businesses on social media can collect and monetize their content and audience.
Even TikTok has collaborated with Shopify and included eCommerce tools on their app. You can even shop on Instagram Reels now.
Social media platforms will find ways to change their channels into a space easy to shop, even when watching a video.
Using modern technology in your marketing strategies, whether video marketing, social media, or content marketing, can help the overall outcome. It'll help businesses meet goals in many ways possible.