5 Tips For Running A Graphic Design Company
1 min read
When running a graphic design business, there are a few ways to help achieve success and build a good business reputation. From how to find new clients to building a diverse portfolio, this post will cover some of the ways to build a high-quality and profitable graphic design business. Keep reading to find out more.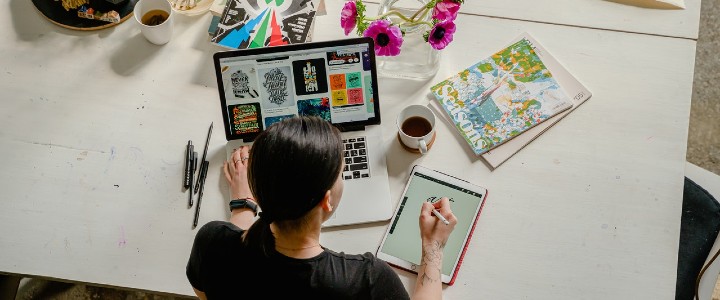 Keep Clients Up To Date With Work
Making sure clients are kept up to date with the work being carried out for them is an essential part of being a graphic designer. Regular updates need to be provided for clients and any queries they may have answered as promptly as possible. Sending examples of work being carried out for them will help to identify whether the vision they have in mind is being met. Make sure examples are easy for clients to access and review to help prevent any delays in work being produced. This will also create an opportunity for feedback and any changes that need to be made. Having good communication with clients will also help to build a positive image and reputation for your business.
Have A Specialty
As a graphic designer, it can help your business to stand out from competitors and reach more clients if you have a specialty. For example, some graphic designers work with certain businesses or provide a specific service. Areas of graphic design to specialise in include:
Web design
Illustration
Motion graphics
Animation
Specialising in a certain area of graphic design will allow specific skills to be built that will help to impress clients and make them more likely to choose a graphic design business that can help them achieve what they have in mind.
Have A Business Brand
Creating a business brand is important for any business but can be especially important for graphic designers. It will help a business to stand out to clients and create more awareness that can lead to increased interest from their target audience. A graphic design business needs to consider how its branding and particularly its online presence appeals to potential clients and whether it's helping them to reach new ones. Using eye-catching designs, logos, and fonts will help to gain the attention of new clients. Time and money should also be invested into a high-quality website and social media advertising if possible.
Reach Out To Potential Clients
In order to help expand their portfolio and increase their number of clients, graphic design businesses should be reaching out to potential new clients rather than just waiting for them to find them. Although it's not a good look to be too pushy, new clients should be approached in a respectful and professional manner. Details of the services that can be provided should be listed and contact information if the potential client should like to discuss anything further. Potential clients may wish to see examples of previous work or learn more about the business.
Diversify Your Portfolio
Diversifying the portfolio of work a graphic design business has under its belt will help to reach a wider audience of clients. Graphic design businesses should attempt to gain experience working for a range of different clients in order to provide a more diverse portfolio that can appeal to a wider audience and gain more clients. As mentioned previously, it might be necessary to reach out to new clients in order to gain some initial experience working for that type of client.