AI in Financial Services 2019
February 5, 2019

-

February 6, 2019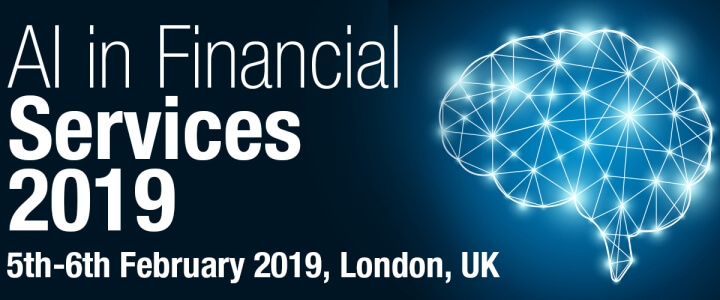 The first of its kind, Arena International are proud to present you the newly crafted AI in Financial Services conference. Taking place in Europe's financial hub, London, the event aims to provide answers and actionable content relating to the implementation of AI.
Join senior decision makers from across the financial services spectrum next February, to collaboratively enhance the financial industry.
Based on our research with over 50 leading experts, the 2019 event will focus on:
How to use AI to enhance customer experience, customer interaction and client acquisition
When and where to implement AI for back office efficiency, business alignment and improved profitability
Who Can You Learn from?
Sohail Raja, Chief Digital Officer UK, Société Générale
Lou Lwin, Chief Technology Officer, Markerstudy Group
Rob Smale, Transformation Director, Ageas
Huma Lodhi, Principal Data Scientist, Direct Line Group
Abhijit Akerkar, Head of Applied Sciences, Business Integration, Lloyds Banking Group
Gaye Soyok, Head of Emerging Technologies, Legal & General
Janet Adams, Head of Risk and Controls, AI, TSB
Mark Budd, Head of Innovation, Zurich
Peet Denny, Chief Technology Officer, Wealth Wizards
Adam Shardlow, Lead Journey – Cora AI, RBS
Mark Wilson, Head of Data Quality, Handelsbanken
Stuart Clements, Director, Head of Robotics, Deutsche Bank
Amir Nooriala, Chief Operating Officer, OakNorth Bank
Gayathri Sudhakaran, Head of Self-Service, LV
Tom Castle, Director of Artificial Intelligence, RBS
Mohammed Marikar, Director, Intelligent Automation, RBC
Martin Ove Ax, Head of Robotics, Saxo Bank
Useful links:
Please note that starting from 27th February 2020, we are no longer accepting new media partnership proposals. Thank you for your interest!