Blockchain 101 MasterClass
September 21, 2017

-

September 22, 2017

Blockchain 101 MasterClass was designed to provide an introduction to blockchain technology, its history and potential. In this MasterClass, you will learn from Peter Bidewell how the underlying technology of Bitcoin has evolved over the last few years into a tool that will change how we share value over the internet. The session will include:
Learning outcomes:
1. Set the foundation of understanding of the technology
2. Identify where the most viable use case would be within your own organisation
3. Review of blockchain platforms and blockchain based apps
4. Become aware of regulatory considerations and perspectives
5. Hear functional solutions of application
6. Identify viable use cases and co-creating a value proposition
Follow on social media: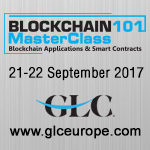 Please note that starting from 27th February 2020, we are no longer accepting new media partnership proposals. Thank you for your interest!