Blockchain & Bitcoin Conference Tallinn
This is the first large conference for Blockchain businessmen and developers of leading IT companies, authors of startups and everyone who is interested in Blockchain technologies. Participants will discuss Blockchain solutions in governance (Govtech) as well as developments of various business spheres: banking, trading, notary services, healthcare, logistics, retail.
Follow on social media: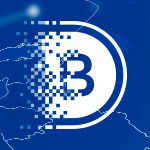 Facebook
Twitter
LinkedIn
Please note that starting from 27th February 2020, we are no longer accepting new media partnership proposals. Thank you for your interest!