Client Reporting & Communications Forum | CRC 2018
November 28, 2018

-

November 29, 2018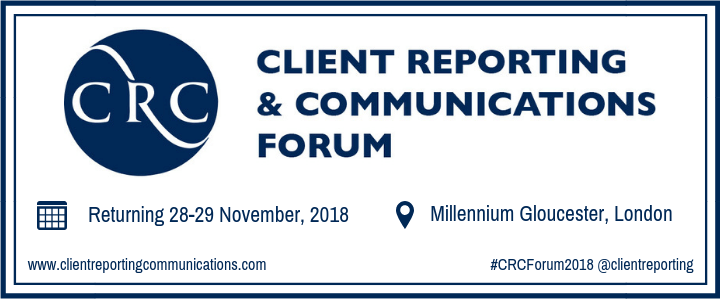 The Client Reporting & Communications Forum (CRC) returns to London on 28-29 November 2018 at the Millennium Gloucester, Kensington, bringing together senior leaders from asset management organisations. At CRC, you can connect with your industry peers; learn from those leading the way in client servicing and have your say on the key trends and challenges faced by our community.
Here, expert speakers share their insights on key topics, such as client engagement and experience, digital transformation and first-class delivery in client reporting. Buy-side delegates have the chance to contribute and express their opinions in a range of round tables, open discussions, and focus groups – plus there are ample networking opportunities to help you set new benchmarks that benefit your business.
Find out more at www.clientreportingcommunications.com
Please note that starting from 27th February 2020, we are no longer accepting new media partnership proposals. Thank you for your interest!