Coex Food Week 2020
November 25, 2020

-

November 28, 2020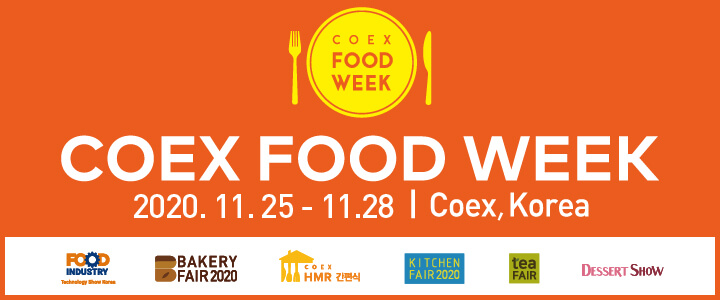 Show Introduction
1. International Food Show
Coex Food Week 2020 is one of the most anticipated international exhibitions in Seoul, with as much as 1/4 of the total exhibitors visiting from overseas. In last year's edition, out of our 872 exhibitors, we had over 65 representatives from approximately 18 different countries around the globe, featuring over 1,900 booths while welcoming approximately 44,000 visitors from the world.
2. Valuable Business Opportunities Presented
Coex Food Week provides a business matching program, free of charge for qualified buyers and exhibitors. Many representatives from major food service industries, such as as prominent supermarkets, convenience stores, department stores, food services, online/offline distributors, and trading companies, come together in search for high quality food products.
In 2019, about 900 exhibitors and about 60 qualified buyers with purchasing power participated in the business matching program. Many of the respondents answered that they were able to meet potential buyers during the exhibition and were satisfied with the meetings. with purchasing power participated in the business matching program. In a poll survey, 85% of respondents answered that they were able to meet 'potential buyers' during the exhibition and 83% of participants stated that they were 'satisfied with the meetings'. For details of our Business Matching Program
3. Endorsed by Reputable Organisations
Gaining consistent approvals from the UFI (Union des Foires Internationales) since 2013, and hailed as a 'Promising Exhibition' by the Ministry of Trade, Industry and Energy (formerly known as the Korean Ministry of Knowledge Economy) in 2010, Coex Food Week has gained both significant national and international recognition.
4. National Pavilion
Countries hoping to bring multiple exhibitors to Coex Food Week can receive a plethora of benefits, such as hotel and tour arrangements, translation services, special airfare price deductions, etc., by organising a 'National Pavilion.' The more exhibitors from one's country, the higher the discount! The previous edition saw national pavilions from countries such as Japan, India, Philippines, Taiwan, Thailand, Italy.
5. Buyer Delegation
Buyer groups of 10 or more members from international trade associations or government organisations can attend the Coex Food Week as a part of an official delegation group, and are eligible for benefits such as complimentary hotel nights, translation services
6. Diverse Concurrent Events & Exclusive PR Opportunities
Everything at Coex Food Week is about food! Don't miss the chance to enjoy exquisite, elegant cooking presentations shows by star chefs, food related conferences, seminars, and more. Special additional concurrent events of Coex Food Week also provide participants with exclusive platforms for further promotion; the 'Food Week Showcase' which will display a selection of competing items to visitors for one winning product. Also, the 'Food Square' will give participants an opportunity to promote their businesses by holding their own press conferences.
Show Profile
Farm Products – Processed Agricultural Products, Vegetable, Fruit, Beans, Processed Fruit Products, Traditional Dried Snack
Sea Food Products – Fishery, Crustacean, Seaweed, Processed Frozen Sea Food
Livestock Products – Beef, Pork, Imported Meat, Delicatessen, Bacon, Ham, Sausage, Frozen Livestock Products
Dairy & Poultry – Chicken, Duck, Egg, Processed Poultry Products, Milk, Butter, Cheese, Yogurt
Rice & Fermented Food – Grain, Rice, Processed Rice Products, Salted Products, Fermented Products
Beverage – Juice, Coffee, Tea, Leaf Tea, Wine, Beer, Traditional Drinks Makgeolli, Liquors
Grocery & Seasoning – General Processed Food, Food Additives, Seasoning, Spices, Oil, Herbs
Health / Functional Food Products – Vitamin, Mixed Grain Powder, Ginseng, Organic Products, Sap, Lactobacillus, Health/Functional
Beverage
Pastry / Bakery – Baking Confectionary, Baking Raw & Subsidiary, Materials, Bread, Cookies
Dessert – Traditional Korean Sweets, Pizza, Hamburger, Sandwich, Candy, Ice Cream
Baby Food – Milk Powder, Baby Snack, etc.
Kitchen Equipment – Meat Processing Machine, Grinder, Induction Range, Oven, Refrigerator & Freezer, Sink, Blender, Kneader
Kitchen Utensil – Airtight Container, Pottery, Dinnerware, Food Containers, Home-baking Equipment, Hotel Equipment and Supplies,
Baking Mold
Furniture, Interior decorations & Store Interior, Showcase, Consulting,POS System, Coffee Roasting Machine, Coffee & Tea machine,Capsule Coffee Machine
Safety Products & Hygiene Equipment – Safety Flooring, Factory & Workplace Flooring, Hygiene & Cooking Gear Clothing
Please note that starting from 27th February 2020, we are no longer accepting new media partnership proposals. Thank you for your interest!