Coffee Expo Seoul 2021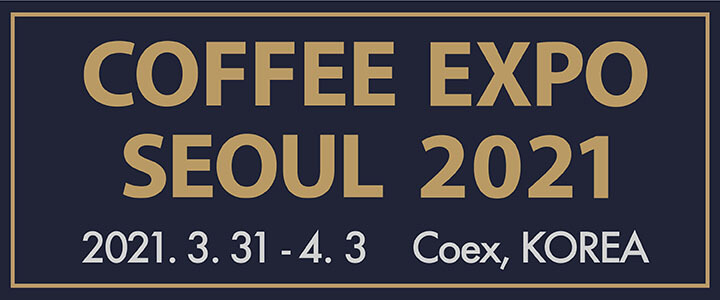 Show Introduction
'Coffee Expo Seoul' is the largest Coffee exhibitions in first half of the year in Korea. Coffee Expo Seoul, which is celebrating its 10th edition, will be held from March 31 (Wed) – April 3 (Sat), 2021 at COEX Hall A, B, and C.
We expect more than 350 companies from 18 countries across 1,100 booths, and 50,000 visitors to participate and visit our show.
Korea's coffee industry has doubled over the past seven years, seeing an explosion in both import and consumption while catapulting Korea to its place as 11th largest coffee market in the world. South Koreans are now amongst the top global consumers of coffee, and the country is home to over 12,300 coffee shops. With the vast majority of Korea's coffee imported from overseas, and the emergence of a taste for new varieties of hot and cold beverage, the Korean coffee industry is certainly an exciting place to be. Along with the massive expansion of Korea's coffee market, Coffee Expo Seoul has doubled it's size in 3 years from it's first launch in 2012. Starting from 82 participants, Coffee Expo Seoul is expecting 350 exhibitors in its next edition.
Coffee Expo Seoul is the one and only exhibition co-hosted with the Korean Coffee Association, and it is the biggest coffee exhibition held in the first half of the year. Due to the cooperation between the leading exhibition organiser and coffee association, Coffee Expo Seoul can bring together the best in the coffee and coffee related products from around the globe while providing a business platform to all the major coffee players in the coffee industry.
Show Profile
Coffee Beans (wholebean, green and roasted)
Drip Coffee, coffee filter and other utenstils
Raw Materials & Ingredients
Franchise. Start-ups & Shop Interior Supplies
Coffee Ingredients
Machinery & Equipment
Gourmet Food
Paper and Packaging Materials
Tea and Other beverages
Please note that starting from 27th February 2020, we are no longer accepting new media partnership proposals. Thank you for your interest!