European Chlor-Alkali Industry Summit
December 4, 2019

-

December 5, 2019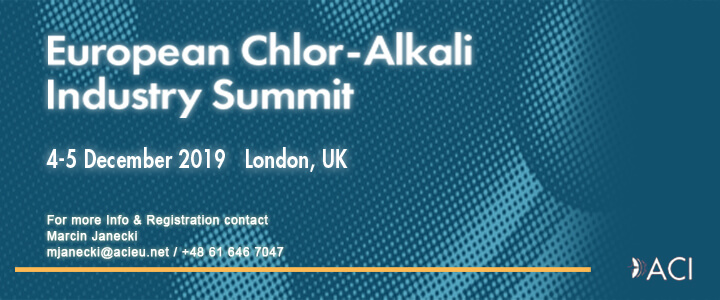 ACI's European Chlor-Alkali Industry Summit will be taking place in London, UK on 4-5 December 2019. The two day event will bring together key stakeholders from all facets of the chlor-alkali industry. It will offer an in-depth look into the European market developments including production capacities, end product supply & demand and the latest technological advancements through case studies, interactive sessions and panel discussions led by industry experts.
It will also look at issues regarding sustainability, with a focus on carbon trading, logistical challenges and energy consumption in the industry. Join us in London to exchange your point of view with your peers and engage in excellent networking opportunities.
Key Topics Include
Analysing Production & Demand Developments in the European Chlor-Alkali Market
European Market Outlook for Supply & Demand Trends of Raw Materials and End Products
Establishing a Robust and Standardised Carbon Trading Scheme in Europe
Potential Solutions to Ensure Sustainable Energy Consumption in Chlor-Alkali Industry
Overcoming Logistical Challenges of Transporting Chlor-Alkali Products
Championing the Industry Shift to Membrane Cell Technology
Exploring New Potential Markets for Caustic Soda Supply
Assessing Alternative Methods of Utilising Chlorine
Conference website HERE
Conference agenda HERE
As an event supporting partner, ACI are offering all readers & subscribers a 15% discount on their registration. To claim contact Marcin Janecki on +48 61 646 7047 quoting CCAe1MKT.
For more information & registration, contact:
Marcin Janecki – Marketing, Sales & Media Partnerships
Phone: +48 61 646 7047
Email: mjanecki@acieu.net
Please note that starting from 27th February 2020, we are no longer accepting new media partnership proposals. Thank you for your interest!