European Electric Vehicle Batteries Summit 2019
June 18, 2019

-

June 19, 2019

£1695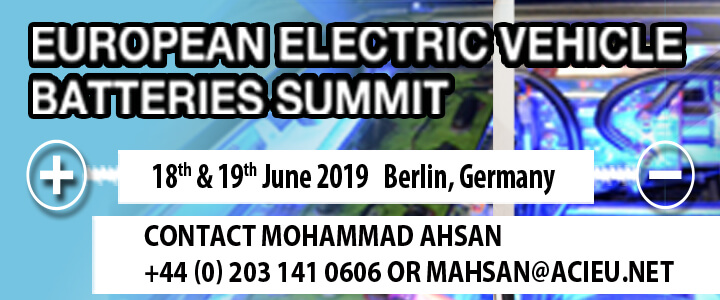 Maximising Battery Performance and Efficiency While Optimising Production Costs
Following the success of its inaugural event, ACI's European Electric Vehicle Batteries Summit will be taking place in Berlin, Germany on 19th-20th June 2019.
The discussion this year will be focused around the key issues currently facing the electric vehicle batteries market, such as scaling up the industry over the coming years and the challenges this presents, the roadblocks along the supply chain and the technology needed to implement the solutions.
The two day event will bring together industry leaders from major car manufacturers, OEM's & battery producers sharing their knowledge and experience with the latest technology developments.
Also joining the summit will be policy makers from regulatory bodies, NGO's, market & energy consultants, and providers of key solutions such as components, materials and charging infrastructure. Don't miss out on this excellent networking opportunity.
Key Topics:
An Overview of EV Battery Market Developments
Scaling Up the European Market to Adapt to Environmental Regulatory Pressure
Developing Solutions to Tackle Range Anxiety
New Material Technologies Overcoming Key Design Limitations
Exploring Alternatives to Cobalt in EV Batteries
Enhancing EV Battery Architecture to Optimise Charging Capabilities
Maximising Performance & Safety with Effective Battery Control
Assessing the Viability of Second-Life Batteries as Energy Storage Devices
Considering Vehicle to Grid Applications to Establish Sustainable Charging
Achieving Total Cost of Ownership that is Comparable to Petrol & Diesel
Encouraging the Consumer to Adopt Sustainable Driving Habits
Solving Charge Time Limitations with Wireless & Conductive Hands Free
To get full brochure or to register with 15% supporting/media partner discount (use EBAe2Ahsan), please contact Mohammad Ahsan on +44 (0)20 3141 0606 or mahsan@acieu.net
Please note that starting from 27th February 2020, we are no longer accepting new media partnership proposals. Thank you for your interest!