European Road Haulage Fleet Management Summit
September 11, 2019

-

September 12, 2019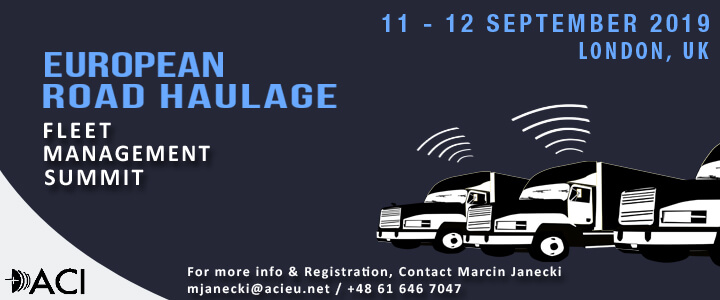 Fleet management has developed into a multi-billion-euro industry in Europe in recent years. Global growth is projected at $30.45 billion, with Europe accounting for more than 10% of global market share. Moreover, the fleet management business continues to grow and is gaining significant strategic importance in a world of changing mobility. ACI is proud to be hosting our European Road Haulage Fleet Management Summit 2019.
ACI's European Road Haulage Fleet Management Summit will bring together senior executives and experts from retailers, logistic & independent logistics companies, OEMs, technology and solution providers, downstream oil companies, consultants and regulators amongst the others, to discuss the latest innovations, challenges and developments within the fleet management systems.
The two day event will bring together senior industry leaders from across the entire fleet management and road haulage supply chain, to discuss how to overcome current market challenges and identify existing opportunities for growth.
Key Topics 2019 Include:
Latest Developments in the European Fleet Management Market
How to Use Smart Technology to Optimise Fleet Operations
Latest Developments in Technology – Looking at the Future of Autonomous Vehicles
Successful Management of a Geographically Dispersed Team
Managing Fleet Operations
HSE & Driver Safety
Risk Mitigation Strategies for Fleet Managers
How to Build the Business Case for EV – Key Facts and Figures to Help your Business Decide if It is Time to Go Electric!
Asset Utilisation & Management
Successful Implementation of Fuel Managements' Strategies for Cost Reduction
Meeting Compliance – Adhering to Euro Emission Standard Regulation
Official Website HERE
Download Agenda HERE
For more info & Registration, please contact:
Marcin Janecki
+48 61 646 7047
mjanecki@acieu.net
Please note that starting from 27th February 2020, we are no longer accepting new media partnership proposals. Thank you for your interest!