GEN Summit 2017
June 21, 2017

-

June 23, 2017

The GEN Summit 2017 will gather over 750 editors-in-chief and media innovators from over 70 countries and will take place in Vienna, 21-23 June. The theme for the seventh annual edition is "From Post-Truth to Virtual Reality: Navigating Media's Future". Speakers from CNN, The Washington Post, Google, BBC News, Caixin Media, Tencent and many more will present a variety of thought-provoking sessions identifying real media solutions.
Follow on social media: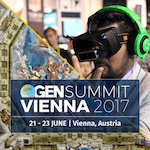 Please note that starting from 27th February 2020, we are no longer accepting new media partnership proposals. Thank you for your interest!