Hydrogen and Fuel Cells Energy Summit
January 24, 2018

-

January 25, 2018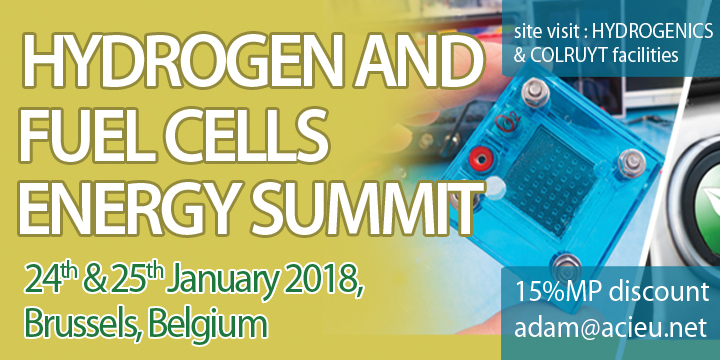 ACI's Hydrogen & Fuel Cells Energy Summit will be taking place in Brussels, on the 24th & 25th January 2018. The two day event will bring together key industry stakeholders to discuss the required economical and infrastructural innovations, investment, latest technology implementations, material optimisation, production, monetisation and transportation in the hydrogen industry. The industry-oriented conference, offers plenty of networking and business opportunities during the site-visits, key sessions, and at social events.

In the afternoon of Tuesday 23rd January 2018, a conference delegation will receive a unique opportunity to visit the HYDROGENICS production plant of water electrolysers and the COLRUYT Hydrogen refuelling station for hydrogen electric cars and hydrogen forklifts with onsite water electrolysis using wind energy. The places are limited and subject to approval by Hydrogenics. As the places are allocated on a first-come first-served basis, please confirm your interest when booking your spaces.
Already Confirmed Speakers Include:
•Denis Thomas, EU Regulatory Affairs, Hydrogenics Europe
•Sunita Satyapal, Director, Hydrogen and Fuel Cells Program & Fuel Cell Technologies Office, U.S. Department Of Energy
•Thierry Lepercq, Executive Vice-President, ENGIE
•Wouter Vanhoudt, Director For Europe, Middle East & Africa, HINICIO
•Dan Sadler, Head of Hydrogen Technologies, Northern Gas Networks
•Nigel Holmes, CEO, The Scottish Hydrogen and Fuel Cell Association (SHFCA)
•John Butt, CEO, Conduit Ventures Limited
•Jörg Karstedt, Coordinator Emobility, ZBT GmbH
•Ian Williamson, Director, HyEnergy Consultancy Ltd
•Dennis Hayter, Vice President, Business Development, Intelligent Energy
•Enrique Troncoso, Engineering Consultant, Systeng Consulting

Summit Topics for Discussion include:
Overview of the actual hydrogen and fuel cells market

Latest technologies involved in the renewable sources

Policy and regulations

Power-to-gas solutions

Decarbonisation of the energy sector

Hydrogen storage improvements

Security aspects in hydrogen production, storage and distribution

Monetisation advice and partnership

Hydrogen mobility applications

Integration and standards


To view the latest agenda please: click here
To view the conference website please: click here
Adam Kowalewski
E-mail: adam@acieu.net
Active Communications Europe Ltd (ACI) – part of The Whitmore Group
T. + 48 (0) 616 46 7047 F. + 44 20 7593 0071
Please note that starting from 27th February 2020, we are no longer accepting new media partnership proposals. Thank you for your interest!