Lignofuels Americas
March 11, 2020

-

March 12, 2020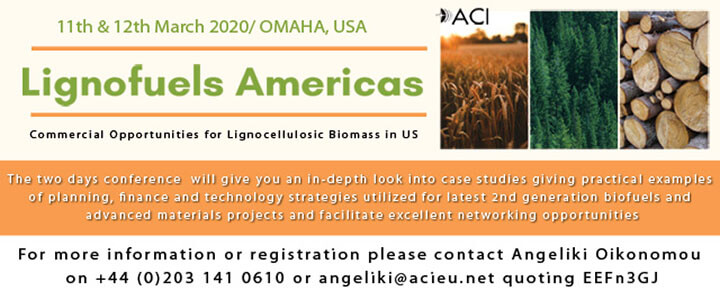 Following the success of the European edition of Lignofuels conference which is now in its 10th year running and going from strength to strength, ACI is thrilled to announce that the American edition of Lignofuels will be taking place in Omaha, NE on March 11th & 12th 2020.
Over the two days, Lignofuels Americas 2020 will give you an in-depth look into case studies giving practical examples of planning, finance and technology strategies utilized for latest 2nd generation biofuels and advanced materials projects and facilitate excellent networking opportunities.
This summit will bring together key lignofuels stakeholders to join our forum discussions and networking, including leaders from advanced generation biofuels companies from across the globe represented by Technical, Strategic and Business Development Executives from First and Advanced Generation Biofuels Producers, Oil Refiners, Process Technology Providers, Enzyme Developers, Engineering Firms and Agribusiness as well as Financiers, Investors, Policy & Regulators, Automotive & Aviation Industries, Consultants, Traders & Brokers and Chemical Companies.
With its interactive format and  networking breaks it will also provide a senior level platform for representatives of the entire value chain, allowing attendees to benefit from excellent networking opportunities!
Join us in Omaha on 11th & 12th March 2020 for a highly interactive & informative conference whilst enjoying the networking opportunities with your peers.
For more information or registration please contact Angeliki Oikonomou on +44 (0)203 141 0610 or angeliki@acieu.net quoting EEFn3GJ.
Please note that starting from 27th February 2020, we are no longer accepting new media partnership proposals. Thank you for your interest!