Noord IT & Digital Leaders BeLux Dialogue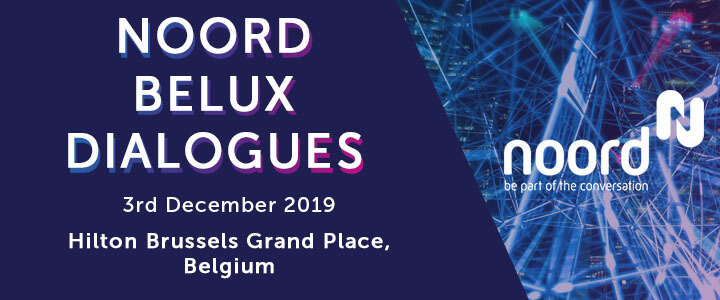 For the last nine years Noord has delivered private, leader-level, highly interactive events for the IT industry across the UK and EU. Now, with more businesses embracing IT as an enabler, the industry is thriving in Belgium. New solutions including IoT, big data and AI are leading the way for accelerated business innovation.  Due to the demand for greater industry collaboration, Noord will be hosting the IT & Digital Leaders Dialogue on 3rd December 2019 in Brussels.
The Noord IT & Digital Leaders BeLux Dialogue brings together 60 industry leading CIOs, CDOs, Directors of IT and Transformation from across Belgium and Luxembourg, offering exclusive networking and benchmarking opportunities with both your peers and industry experts.
Researched with your peers, the programme delivers interactive case studies, workshops and one-to-one meetings allowing you to head back to the office with actionable insights to not only develop your strategy, but put it into practice.
Key Themes Being Discussed
Business transformation – a 360° approach
The intersection between IT, HR & Legal
Mastering digital transformation – the role of the modern CIO
How to use modern recruiting techniques in order to engage and recruit high performance candidates
The dangers of phishing
The importance of security when developing software and how best to secure CICD/DevSecOps pipelines
Here are some of our speakers that will be contributing to IT & Digital Leaders BeLux:
Jocelyn Darbroudi, CIO, DKV Belgium
Olivier Plaitin, Head of Digital Delivery, Brussels Airlines
Christopher Franskin, Global Chief Information & Digital Officer (CIO/CDO), Cigna
Koen De Maere, Researcher Digital Strategy & Governance, University of Antwerp
Patrick Putman, CIO, ENGIE Cofely Belgium
Click here to visit our website and view the full list of speakers 
Your Event Package Includes
Comprehensive event documentation – including option to download presentations from our secure website
Access to our secure event website to customise and build your own itinerary prior to the event
Stream sessions, focus groups, workshops, speaker's corners and plenary conference sessions with keynote speakers
All-inclusive luncheons and refreshments during the day – unlimited tea, coffee, soft drinks
Pre-matched one-to-one meetings and personalised event itineraries
Quality interactions with other delegates during the frequent time-slots dedicated to participant networking
Check out Some of Our Testimonials
CIO, NOONAN (delegate)
"One of a few events to meet and discuss real world issues with my peers and get insight on how they approach these issues in their organisation"
Account Director, Darktrace (Sponsor)
"A very high caliber event resulting in a lot of fruitful opportunities! Fantastically run and would recommend to any vendor"
CISO, Pinsent Masons (Delegate)
"Great event, mix of networking with like-minded souls & conversations with vendors you want!"
Looking forward to attending this exclusive event? Click here to register your interest today. Get in touch soon to get the best prices!
Interested in sponsoring IT & Digital Leaders BeLux? Contact us here and a member of our Solution Partners team will reach out to you.
We are looking forward to seeing you in Brussels!
Please note that starting from 27th February 2020, we are no longer accepting new media partnership proposals. Thank you for your interest!