Publishers Summit
June 19, 2019

-

June 20, 2019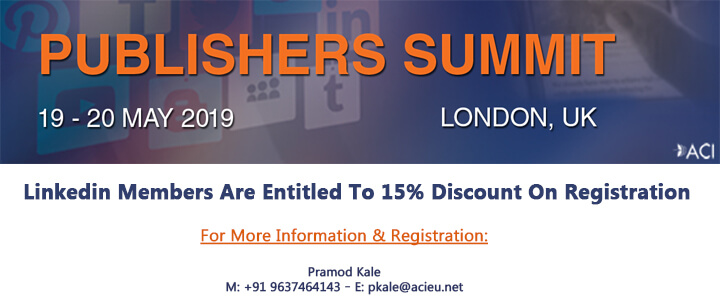 Join ACI's 3rd Publishers Summit will be taking place in London, UK, on 19th June 2019 – 20th June 2019
Over the two days, the event will bring together key industry stakeholders from the publishing industry: publishers, technology, design, UX, CX and advertising companies, to hear latest case-studies by market leaders and take part in interactive sessions & panel discussions.
Join us in London to exchange your points of view with your peers and engage in excellent networking opportunities.
PFA Agenda: click here
Key Topics
GDPR Checklist for Publishers
Keeping Credibility in a World of Fake News
Brexit and its Impact on Publishing Industry
Bringing Content to Life: Virtual Reality
Collaborative Publishing
The Shifting Role of the Agency
Alliance Between Publishers & Social Platforms
The Value Exchange Between Content & Advertising
The Podcast Generation
Reaching Out to Your Audience by Using Different Business Models
Evolving Programmatic Models
Early Confirmed Speakers:
James Wildman, CEO, Hearst Magazines
Liam Reynolds, MD, Johnston Press
Gill Dawson, Group Head of Digital Audience & Delivery, Centaur Media
Parminder Bahra, Executive Producer, The Wall Street Journal
Björn Österman,Head of Digital Advertising Sales, Egmont Publishing
Jakob Meng, Head of Digital, Bonnier Publications
Georgina Holt, Group Publishing Director, ShortList Media
Philipp Schmidt, CTO, Prisma Media
Cigdem Akar, BOEV
Christian Stavik, Head of Digital, Berlingske Media Group
Kirsten Morrison, Head of Digital, DC Thomson
Hazel Cushion, CEO & Founder, Accent Press
Stephan Granhaug, Executive Vice President Digital, Aller Media
Michael Mullaney, SVP- Head of Digital Revenue, The Economist
Jasper Jackson, Editor And Chief Analyst, Briefing Media
Jon Restall, Head of Agency Partnerships, TI MediA
George Burgess, Director Of Innovation, The Telegraph
All readers/subscribers are entitled to a 15% registration discount. For further information, agenda request or to register your attendance contact Neha Desadla on +91 7030655510 or ndesadla@acieu.net quoting QDPe3ND.
Please note that starting from 27th February 2020, we are no longer accepting new media partnership proposals. Thank you for your interest!