The European Mineral Fertilizer Summit
December 6, 2017

-

December 7, 2017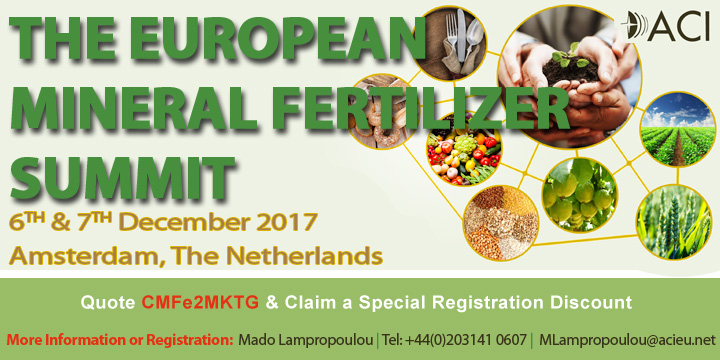 ACI's European Mineral Fertilizer Summit will be taking place in Amsterdam, The Netherlands, on the 6th & 7thDecember 2017. The two day event will provide an exclusive platform for collaboration and discussion between a variety of industry perspectives including manufacturers, suppliers, distribution/logistics, academia but some other involved areas as policymakers, NGO's, nutrition and environment preservers. Tackling the latest opportunities arising from society concerns, the objective of this conference is to emphasize and implement the latest plant technology and best practices within operational production. The main aim is to identify potential solutions, future work programmes and productive partnerships that overcome the key regulatory challenges. Focus on minimizing risk within the supply chain, promoting access to secure food supply and environmental preservation.
Past Attendees: Grupa Azoty – Zakłady Azotowe Kędzierzyn S.A. * Procam Polska Sp. Z O.o. * Phosagro * Agrinos SA * Headland Agrochemicals Ltd * Compo Hellas SA * DB Cargo (UK) Limited * OCI Nitrogen * OCP Group * GCI * JSC Belarusian Potash Company * Generation Investment Management LLP * Scientia Terrae Research Institute * Alba-Milagro SpA * ICL Fertilizers * International Nutrient Management Institute NMI * Koppert Biological Systems * HAVER Engineering GmbH * Euroports Belgium NV. * Plant Health Care, Inc. * IHS Chemical * Green Markets – A Bloomberg BNA Business * VFRC (Unit Of The IFDC) * The European Commission * Fertecon * Microspore * Fertilizers Europe * Ostchem * Sirius Minerals * UK Trade & Investment Department * SHB Miller * Yara International * Haver & Boecker OHG * Ameropa AG * University Of Cambridge * China National Chemical Information Center * Azotic Technologies * International Grains Council and many more…
Please note that starting from 27th February 2020, we are no longer accepting new media partnership proposals. Thank you for your interest!